San Diego, otherwise known as  "America's Finest City," has one of the most beautiful coastlines, if I may dare say, in the world. According to the San Diego Tourism Authority, over 35 million people visited San Diego in 2018 and 36.5 million in 2019. I am afraid to see the numbers for 2020, but I digress. One of my favorite things to do on this website is introduce you all to the many, many San Diego hidden gems. I will be the first to admit that I am biased as I have been exploring the San Diego coastline for over thirty-five years. So today, I would like to share with you a few more, in fact, five more San Diego Hidden Gems, so you too can experience San Diego as a native.
When I say San Diego, I refer to the entire 70 miles of the San Diego coast. From San Onofre State Beach down to the US/Mexico border, the coast of San Diego has something for everyone!
Let us now take a look, shall we?
#Click on any photo in the gallery to view a larger image
---
Old Man's Beach at San Onofre State Beach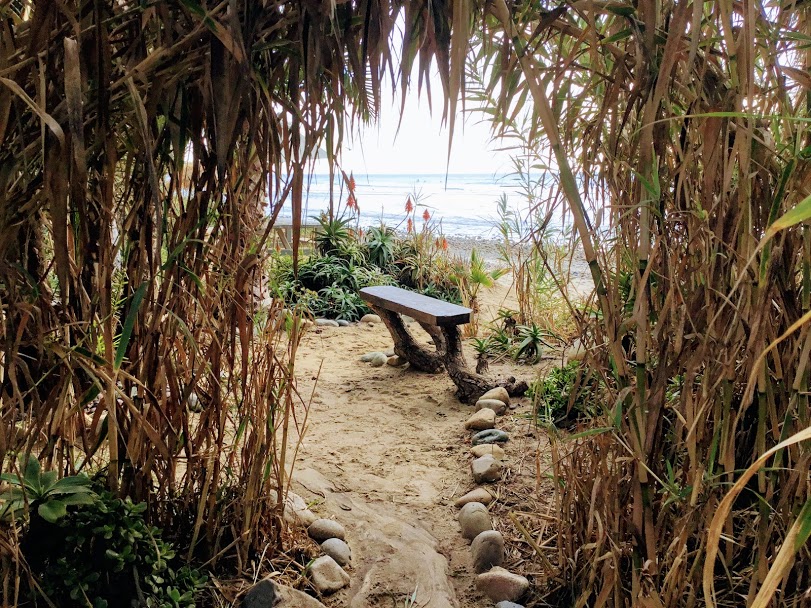 I wasn't sure if I would share this little gem because this has been my little secret for years, but here we go. Old Man's Beach is one of my favorite places at San Onofre State Beach, and locals refer to this beach as  San O and San Onofre Surfing Beach.
The vibe here is old-school wave rider. If you ever wanted to go to a beach just like one from a Gidget movie, that is Old Man's Beach in a nutshell. Everywhere you look, there is someplace to lean your surfboard on. The creativity and the use of driftwood and rocks are note-worthy for sure. You can feel the love of everything saltwater at Old Man's, which is one of the primary reasons I love it over here.
I used to be apprehensive about going to San Onofre due to the proximity of a nuclear power plant, SONGS (San Onofre Nuclear Generating Station.) But since 2013, SONGS has been closed and is currently in decommissioning mode; thus, the danger has dramatically decreased.
Another great feature about Old Man's Beach is that the waves are very forgiving, making it a great place to learn how to surf.
Just south of the Volleyball court and getting closer to SONGS-Dogpatch Beach is a prime spot to launch kayaks and paddleboards as the water here is relatively flat.
Dogs are allowed on Dogpatch Beach, but only when on a leash.
Old Man's Secret Garden
The secret garden is the number one thing I love at Old Man's. Well, it is not a secret, but I hardly ever hear anything about this beach.
Not too long ago, I spoke with an old-time member of the San Onofre Surf Club about the garden over here. In the early days, he said that members would find plants on the beach while surfing and decided to take care of them and see what would happen. Surf Club members would bring jugs of water for the plants daily.
There are even two hand-made showers that are also wheelchair accessible at this beach. Oh yes, I forgot to mention, but Old Man's Beach is wheelchair accessible. Click on the link to see all the San Diego Wheelchair Accessible Beaches. There are manual beach wheelchairs available for use.
Down below, I have a few photos that showcase the Old Man's Beach garden.
I love so much how rustic and undeveloped it is over here.
What do you think?
Wait, What? Great White Sharks Hang Out Here?
Did you know that great white sharks are seen frequently at  San Onofre State Beach? I would not be shy in stating that San Onofre State Beach has the highest frequency of great white shark sightings in all of San Diego County.
San Diego is a juvenile great white shark nursery, as mama's like to drop off their 3-5 foot kids here. The problem is, is that mama never comes back. San Diego affords just the right environment and ample food supply for these juveniles to learn how to survive and be sharks.
For more intriguing information, please click on the link that is provided down below. And believe me when I tell you, it is fascinating information!
So Many Things to See at Old Man's Beach!
So Old Man's is fantastic because of its garden and surfing history. But there are other things to see as well-
Two and a quarter miles of advanced surf break north of Old Man's-The Point, Church, and Trestles (Middles, Lowers, Uppers)
Cristianitos Fault is found just south of San Onofre Nuclear Generating Station (about 1/2 mile south)
Three and a half miles of walking south at San Onofre Bluffs Beach
Coastal strand plant communities within the bluffs and wildflowers in the spring
Further Information–
---
Buena Vista Lagoon's Weir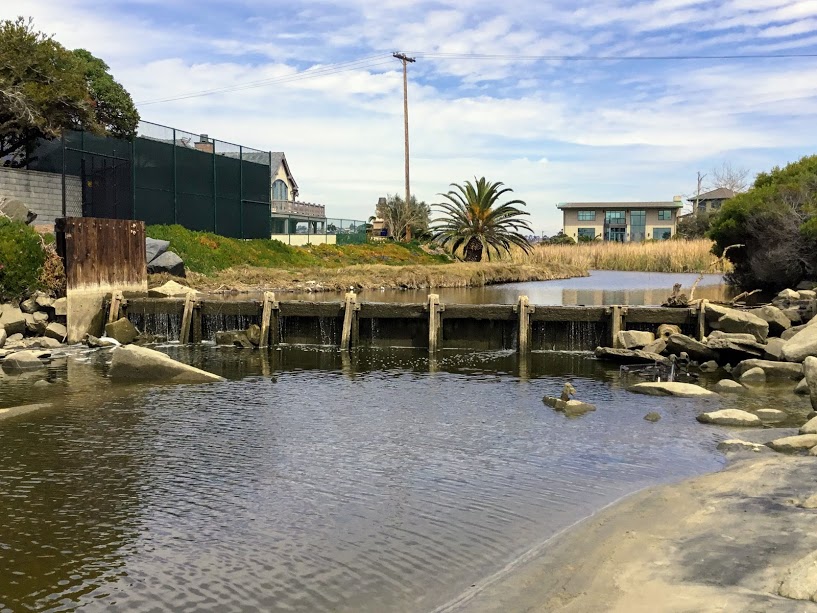 Did you happen to know that San Diego has eight coastal lagoons? Seven of these lagoons are saltwater, and one is freshwater. Buena Vista Lagoon, which covers 220 acres, is the only freshwater coastal lagoon in San Diego County. I believe that this fact alone is a significant reason to check out Buena Vista Lagoon!
Why? Well, after a long and drawn-out battle between homeowners, citizens, and two cities, it has finally been decided that sometime in the future, the Buena Vista Lagoon will once again become a saltwater lagoon! All that needs to be done is to remove the weir. But in reality, so much more needs to be done, not just removing the weir.
Click here for more detailed information.
Checking Out the Buena Vista Lagoon Weir
Buena Vista Lagoon is a natural land/water barrier found on Carlsbad and Oceanside's border in North San Diego County. It is one of the significant stopovers for migrating birds that follow the Pacific Flyway. Millions of birds fly by the Buena Vista Lagoon during their annual Winter and Summer migrations.
Initially, the Buena Vista Lagoon was a saltmarsh but became a freshwater lagoon by placing a weir; ever since there has been controversy.
Fun Fact- In 1968, the Buena Vista Lagoon became the very first Ecological Reserve to be designated in California
There are two main ways to get here: one at Oceanside and the other at Carlsbad City Beach. If you have no idea what the tide will be, I suggest you start over at Carlsbad. The reason is that South Oceanside has a narrow beach that becomes inaccessible when the tide is high. So that is why I have listed Carlsbad as a starting point.
San Diego County's Only Freshwater Coastal Lagoon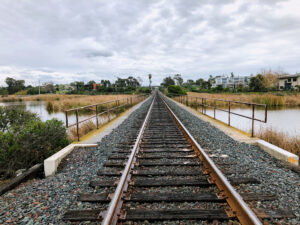 In the 1940s, Saint-Malo Beach, a coastal gated community in Oceanside, took advantage of the location's beauty, and homes were built right around the salt marsh's western edge. Soon residents noticed the terrible stink of the mudflats revealed during the low tide. To remedy this, a weir was placed, thus creating a freshwater lagoon.
The problem is that cattails have taken over without tidal flushing, and the mosquitos are out of control. Allowing the lagoon to return to a saltwater lagoon will help with biological diversity, water quality, and help with flooding.
How Much Will it Cost For The Weir To  Be Removed?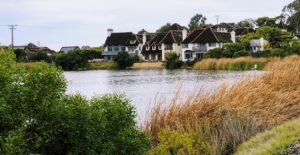 Well, according to SANDAG (San Diego Association of Governments), it has been estimated that the construction costs will be somewhere around 80-88 million dollars! One of the high costs is the unknown quality of sand and soil that needs to be removed. There have been industrial and residential wastes and treated and untreated sewage that has been released into the lagoon throughout the many years.
Do you remember how I mentioned that the weir was put into place so there would be no tidal mudflats near the homes? This complaint was taken to heart, and as a compromise, they will dig deeper around the houses, thus making sure that there will always be water present during the changing of the tides.
When all of this happens depends on if funding can be found. The Interstate 5 bridge is up for replacement in 2030, so some speculate if the lagoons restoration plan is accepted as the bridge's mitigation project, the construction and removal of the weir could happen simultaneously to save on costs.
Other Things to See at the Buena Vista Lagoon
As mentioned above, the Buena Vista Lagoon is terrific for birdwatching and walking on the coastline. When visiting the weir, please be respectful to the Saint Malo community and ensure you are not walking around on any private property.
If you have time, I recommend visiting the Buena Vista Audobon Center, as there is so much exciting information about the area and the lagoon to explore. When visiting, walk around the small loop trail and check out their native garden.
If you are hungry before 1 pm, you can head to Buccaneer Cafe at Buccaneer Beach, which is not too far away. I have yet to try them out, but they have tables on the sand with an ocean view!
Update– I visited the weir on January 31, 2021, and was surprised by what I saw! We had quite a bit of rain this past week, and it shows. Take a look!
Further Information–
---
Annie's Canyon Trail at San Elijo State Beach

Are you looking for a relatively easy hike? How about a very thin and narrow sandstone slot canyon? Yes? Then you must head to the San Elijo Lagoon and try Annie's Canyon Trail!
I have been through there at least seven times. When I went with my husband, he insisted we go through it twice a row. It is so fun and unique!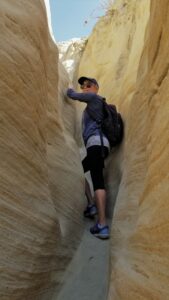 The San Elijo Lagoon is located on the border of Carlsbad and Encinitas. The North Rios Trailhead for Annie's Canyon Trail is located in the southwest corner of the lagoon. The hike is relatively short, just under one mile one way, and the views here are spectacular.
My favorite time to visit is during the spring, as there are so many wildflowers to be seen in and around the San Elijo Lagoon.
About midway, you will come upon Gemma Parks Interpretive Trail, a 1-mile loop trail right next to the lagoon. Here, several identification signs give you the names and details of several native plants at the lagoon.
Annie's Canyon Trail is one of my favorite San Diego hidden gems. Below, I have provided you with a few of my favorite photos.
Referring to the photo above, you can see that the passageway is exceptionally narrow, so if you have claustrophobia, I suggest you take the alternate switchback path.
Checking out the Nature Collective 
Again, if you have time, I recommend visiting all of the San Diego Nature Centers! The Nature Collective, formally known as the San Elijo Lagoon Nature Center, has various materials and references for you to see and interact with.
There are also several short nature paths to explore. The San Elijo Lagoon has been undergoing major restoration, which has helped tremendously with water circulation.
Click here for more in-depth information on all that has been done thus far!
San Elijo Lagoon's Nature Loop Trail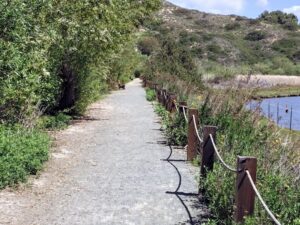 A straightforward Nature Center loop trail features many native plants and trees. Here is a flat, cemented path for wheelchairs; dogs are only allowed on a leash.
Further Information
---
Black's Beach Overlook
Ok, this next San Diego hidden gem is, I have to say, one of the best places to check out a San Diego sunset without having to worry about looking or paying for parking.
What makes the Black's Beach Overlook so special is not many know about this area because it is sandwiched between the Torrey Pines Golf Course and UCSD (University of California San Diego).
Black's Beach is San Diego's only nude beach, so please note this. Another feature here is the fantastic surf break. Black's Beach surf break is probably the second-best surf break in San Diego County, after Trestles, over at San Onofre State Beach.
Torrey Pines Gliderport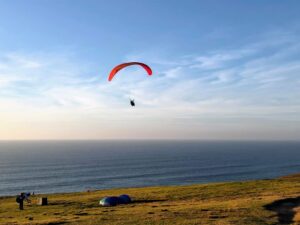 A large dirt-op parking area can be located next to Torrey Pines Gliderport (click on the link for more information).
Parking over here is FREE! Yes Free! It is tough to find any parking, much less free parking near Torrey Pines.
La Jolla Underwater Park
Looking down from above on the Black's Beach Overlook provides stellar views of the La Jolla Underwater Park, which spans from Black's Beach south to the La Jolla Cove. (Click on the above link for more information).
Standing on the Black's Beach Overlook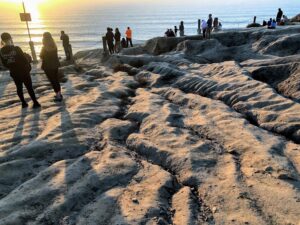 A word of caution before stepping on the bluff and walking toward the edge. As you can see from the photo above, the bluffs here at the Black's Beach Overlook are extremely weather-worn. Some of the crevices here are deep, so please be careful when walking over here.
La Jolla Trail
Located just south of the Black's Beach Overlook, there is a narrow trail that I have yet to take all the way, but I will get back to you after I try it out.
Gliderport Trail to Black's Beach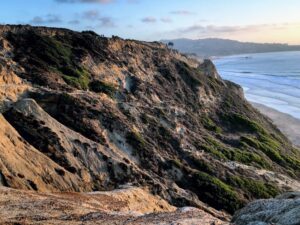 If I had to pick the easiest and safest way down to Black's Beach, it would be Gliderport Trail. There is another, but I feel it is too dangerous to mention. When my girls and I  were hiking the Gliderport Trail for the first time a couple of years ago, a helicopter and the fire department was making a rescue over at this unnamed trail.
So my best advice, stick to the Gliderport Trail.
Further Information
---
Sunset Cliffs Natural Park

Oh, Sunset Cliffs, how I love thee. This is my go-to place to bring visitors from out of town to show off just how beautiful San Diego is. I can not tell you how many times I have been here in my 33 years as a resident, but if I had to guess, probably well over 100 times.
The views here are out of this world! I could sit and watch the water at this spot for hours.
Sunset Cliffs Natural Park is a 68-acre park spanning the western edge of Point Loma. The Park is separated into two sections-
Linear Park – 18 acres which follow the edge of the bluffs
Hillside Park -50 acres of designated a conservation area
Today I am concentrating on the Hillside Park section, which is found at the end of Ladera Street and right next to Point Loma Nazarene University.
There is no parking lot, so look for parking within the residential neighborhood.
Sunset Cliffs Natural Park- Hillside Section
Sunset Cliffs Natural Park Linear Section has always been my go-to place to take visitors out of town. It is a great place to show off the beauty of San Diego!
Sunset Cliffs Natural Park isn't what you would call a hidden gem, per se, because so many people do utilize this area. It is the number one spot in San Diego where people gather in anticipation of viewing a glorious sunset.
But, and a big but; the Hillside Section of Sunset Cliffs Natural Park is another matter. Every time I visit over here, there is hardly anyone else. I highly appreciate solitude while on the coast, how about you?
Native Plant Restorations
At Sunset Cliffs Natural Park, you can get a rare glimpse of an undisturbed coastal sage scrub community. A restoration project has been in the works here since 2005. A large amount of coastal native plants have v
I have been fortunate to watch the restoration throughout the years. The last time I visited was on a King Tide day- January 12, 2020. On top of that, there seems to be something new each time I stay over here.
Below is a comparison showing the entrance into the Park, demonstrating the progress made here. (Take note of the white building in the far background for a better perspective.)
Did I mention that there are Torrey pine trees here? During Sunset Cliffs Natural Park restoration, the non-native Eucalyptus trees were removed and replaced with California-native Torrey pine and Coast Live Oak trees. The trees are located up above, overlooking the college campus. If you look closely, the campus stadium is not far away.
A trail on the bluffs links to the Navy's 640-acre Point Loma Ecological Reserve. I have yet to try this trail out, but I will write about it. I can never get enough of the bluffs in San Diego.
Checking out Two Beaches Below
Garbage Beach is directly below Sunset Cliffs Natural Park, and New Break Beach is directly south of Garbage Beach.
New Break Beach is only accessible here during a shallow tide. I hear there is another way down here, but it is located on the college campus. The staircase over at Garbage Beach will help you get down below.
When referring to the photos, you will see that locals also utilize a rope over at the Hillside Section. I do not know about you, but I am just fine walking a little more to the stairs. The cliffs here are too steep for my liking.
But I have to give credit to the woman in the photo above. She was carrying her medium-sized dog while climbing down on the rope! That is skills!
A word of caution. There have been many accidental deaths over here, especially at night. So please be very careful and stay far away from the edge as much as possible.
Whale Watching at Sunset Cliffs Natural Park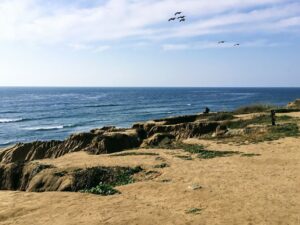 I can not think of a better place to see whales very close to shore than at Sunset Cliffs. I have seen gray whales here, and boy, let me tell you, I was elated! I was that crazy lady jumping up and down, pointing toward the whale spout. If I see a whale, everyone around me will know it!
Sunset Cliffs are unique because there are many kelp beds right offshore, and Gray whales like to go into the kelp beds to feed.
Give it a try for yourself between November and March. The trick is to stare at the horizon and look for any movement. Usually, your eyes will catch the whale spout, and patience is key!
Also, be on the lookout for great white sharks, as they hang out here too.
Further Information
---
So what do you think? Have I piqued your interest? Please feel free to leave any comments or questions that you may have down below!
Until next time!
---
References-
San Onofre State Beach – Surfing Beach (Old Man's), San Clemente, CA – California Beaches
Decades in the making, the Buena Vista Lagoon restoration plan was finally approved – By the San Diego Union-Tribune.
Microsoft Word – Sunset CliffsMP July 05 F.doc (sandiego.gov)
I have always had a deep-seated passion for the Ocean Environment which ultimately led me to receive a degree in Marine Biology. Living in the San Diego area for over 30 years, I have extensively explored the 70 miles of San Diego's coastline, and I am here to share! Please use my website to your advantage and have a look around at all the wonders that the beaches of San Diego can offer you!