San Diego County has some of the best coastlines on the entire coast of California. From the rugged seashore, with towering sandstone cliffs found in North County San Diego, all the way down to the open estuaries and sandy beaches in South County San Diego. Today I would like to list some of my favorite San Diego hikes you can experience on the coast of San Diego.
All San Diego hikes listed will be taken only with a negative low tide. Please check out the tide chart before embarking on your adventure, as some of these walks are dangerous if the tide comes upon you. A good rule of thumb would be to allow a couple of hours before the high tide comes back in. Remember, a very high tide always follows a shallow tide.
One more thing. I have previously written extensively on these sites and have linked each post appropriately, so click on the underlined links for more information.
---
Trails at San Onofre State Beach
I can not tell you enough how much I love San Onofre State Beach! There is something to be said when you leave a piece of land alone. At San Onofre, it is easy to imagine what it looked like on the coast of California over 100 years ago. I am a sucker for natural beaches.
San Onofre State Beach is located at the border where San Diego County and Orange County meet. This beach, at one time, was under the control of Marine Corps Base Camp Pendleton. But in 1971, Governor Ronald Reagan leased out this stretch of beach to the State.
It is also important to mention that Camp Pendleton has its private entrance over the San Onofre Camping Beach and a private surf break (Church) right offshore. So, if you are in the military or even retired, please take advantage of this as all others need to pay to get in. (Click on the link for directions)
Trails/ Bluffs Beach
Trails Beach, three miles long, is found just south of SONGS (San Onofre Nuclear Generating System) and right below San Onofre State Bluffs Campground.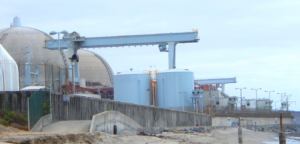 How often can you say you walked next to a nuclear power station?
There are two possible ways to enter this beach–
Enter by parking at the San Onofre State Bluffs Campground and choosing between six trails that connect to the beach. Trail 6 is one of the easiest to navigate down.
Park at Old Man's Beach and proceed walking south. Connect to Trails Beach by walking the SONGS  back paved walkway, found parallel to the ocean.
Again,  caution is given here as the beach is very narrow when the high tide comes in. If you encounter high waters, you can hike up one of the six trails that connect the beach to the San Onofre Bluffs Campground above.
# Both Trail One and Trail Six allow dogs on leashes!
Old Mans's Beach to end Bluffs Beach– 3.5 miles, 7 miles round trip
Amenities– porta-potties and showers at Old Man's
Things to see-
the unique geology of the bluffs
driftwood
sharks offshore
coastal strand biome with native and non-native plants
six trails that connect the campground to the beach (especially if you get caught with the tide coming in
Directions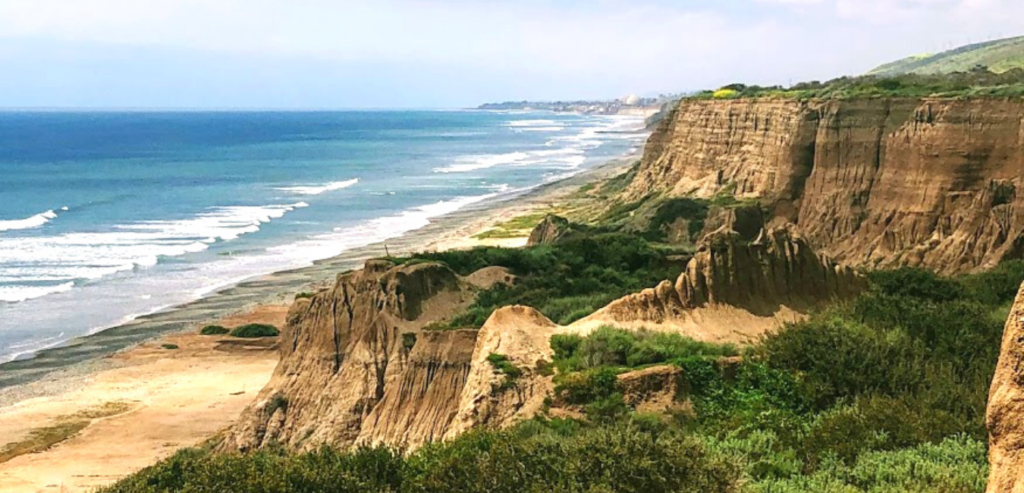 ---
Hiking Moonlight Beach, Encinitas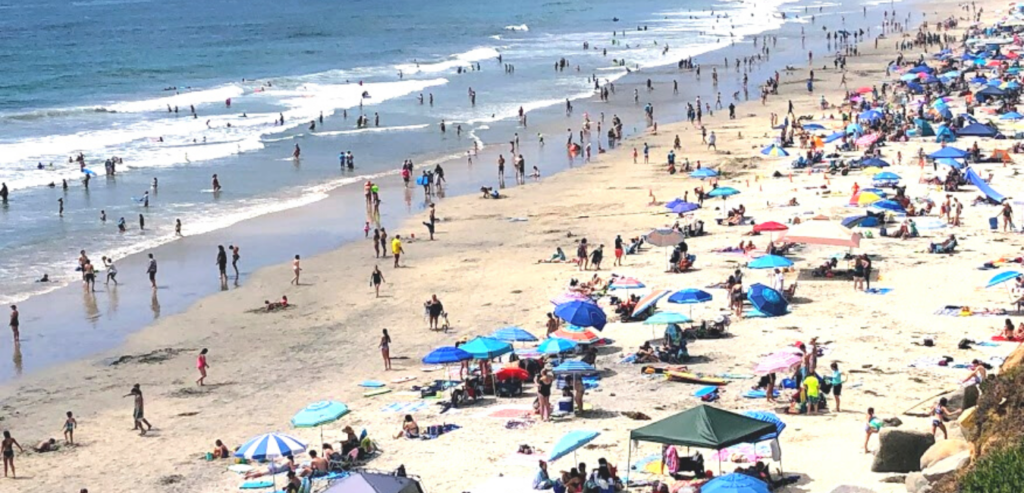 I can not tell you how many times I have hiked the beaches of Encinitas. My family and  I have been calling this beach our home for over 25 years.
What makes Moonlight Beach one of the best San Diego hikes is that it is a fantastic starting point as it is centrally located in Encinitas.
It makes no matter which direction you decide to take, as each has something unique to experience.
Let's take a look!
Stone Steps Beach and Beacon's Beach- Hiking Encinitas North
Starting at Moonlight Beach and proceeding north, you will come upon Stone Steps Beach, which can be relatively narrow at times, but not on a low tide day.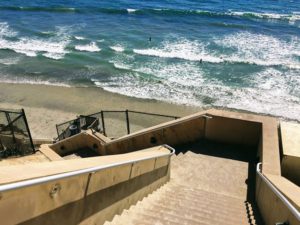 Here are the grand steps of Stone Steps Beach. I always encourage you to climb the staircases to check out the views, and it helps you absorb the coastal environment better if you can get as many perspectives as possible.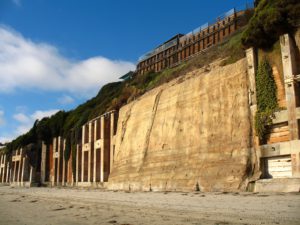 You will notice on this hike that the cliffs have been slowly eroding, and the homeowners are doing their damnedest to slow this down with retaining walls.
About half a mile later, you will come upon Beacon's Beach, with its vast sandy beaches.
We always stop at Beacon's Beach and travel up its switch-back walkway to experience some killer ocean views.
Moonlight Beach to Beacon's Beach– 1.6 miles, 3.2 miles round trip
Amenities– restrooms, food, and rentals at Moonlight Beach but not at Stone Steps or Beacon's
Things to see-
the towering cliffs
cliffside homes
unique stones and shells
dolphins
wild vegetation
surfers at Beacon's
Directions–
Hiking Encinitas South-D Street Beach, Boneyards, and Swami's
Starting at Moonlight and heading south, you will pass by D Street Beach, a vast and unique wooden staircase. Further on, you will encounter the sheer high cliffs of Boneyards, which some beachgoers take advantage of by omitting their swimsuits.
As we continue the hike, we reach Boneyard Beach, where the bluffs seem to have a personality.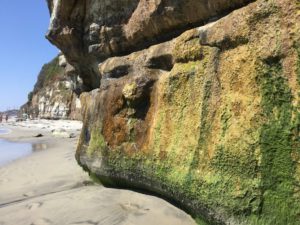 Boneyard Beach is also a  great place to check out the waves surfers as many reefs are offshore.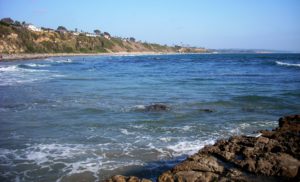 What I love about this particular beach hike is that when you come upon Swami's State Beach, right at a point, it is as if you are encountering a hidden paradise.
If you are inclined, you can still keep walking past Swami's, continue on San Elijo State Beach, and finally come upon Cardiff State Beach, and a little bit further is Seaside State Beach.
Here you will find endless amounts of tide pools sticking out on the beach. These reefs are also one reason why there is such great surfing over here in this area.
—>Best Surfing Beaches in San Diego<—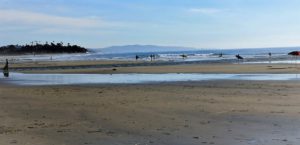 Moonlight Beach to Swami's– 1.2 miles, 2.4 miles round trip
Moonlight Beach to Seaside State Beach– 3.6 miles, 7.2 round trip
Swami's State Beach to Seaside State Beach– 2.5 miles, 5 miles round trip
Amenities- restrooms at Moonlight, up above at Swami's Seaside Park,  at Cardiff and Seaside State Beach
Things to see-
unique cliffs
shorebirds
driftwood
the "Hanging Tree"- (see the cover photo)
surfing
tide pools
San Elijo Lagoon Inlet (at Cardiff State Beach)
Directions-
---
Hiking Torrey Pines State Beach to Black's Beach
Here is another of my family's favorite San Diego beach hikes- Torrey Pines State Beach.
I found this hike while working as a Fisheries Technician right out of college. It was my favorite beach to walk and find a surf fisherman, and there was a surf fishing heaven with all the reefs close to shore.
The sandstone cliffs climb to over 300 feet at Torrey Pines State Beach, making you feel so tiny. There have been several deadly accidents that happened over here over the years, so make sure to stay clear of these cliffs.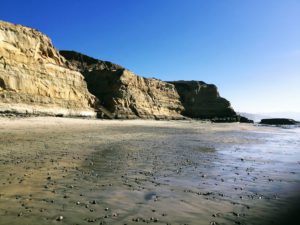 We come to the border right before entering Black's Beach, Flat Rock Beach. To the left of here, right at the bluffs, is the exit/entrance of the Torrey Pines State Natural Reserve Beach Trail.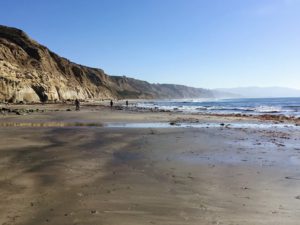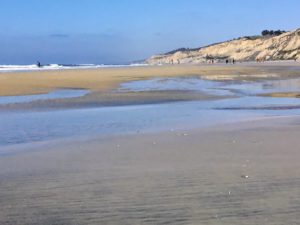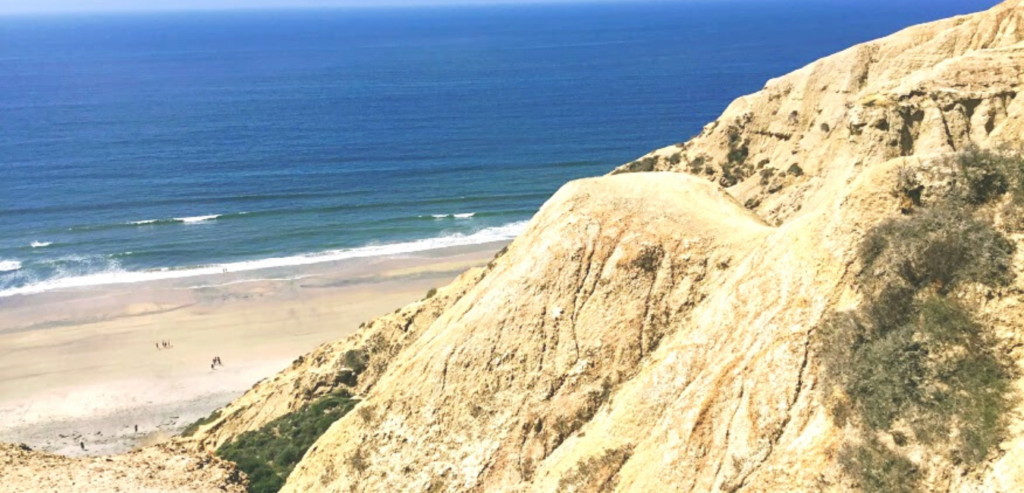 North Torrey Pines to Black's Beach– 4.4 miles, 8.8 miles roundtrip
Amenities- Restroom only at Torrey Pines State Beach (north and south) as well as the Torrey Pines State Natural Reserve up top, overlooking the beach
Things to see-
towering sandstone cliffs
tidal flats and tide pools on the shore
"Flat Rock," otherwise known as "Indian Bathtub," at the beginning of Black's Beach
Peregrine falcon nest on the bluffs overlooking the beach
dolphins
shorebirds
Directions–
---
Hiking La Jolla Shores to Black's Beach
To continue our journey, I wanted to give you another great option to experience the coast of La Jolla by adding La Jolla Shores to the mix. I have to say that this is one of the best San Diego hikes that my kids enjoy the most!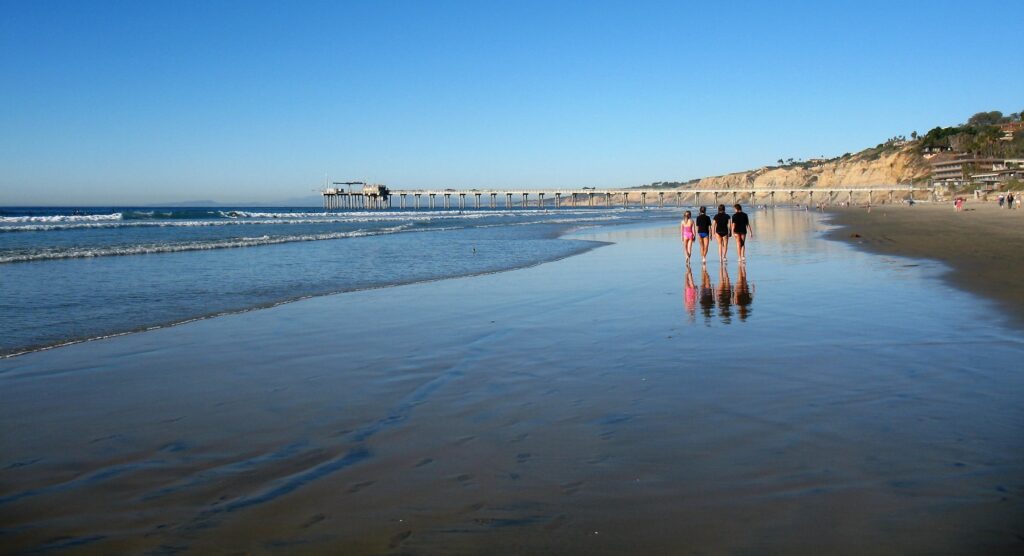 You can walk this stretch between Scripp's Beach to Black's Beach, but only on a very low tide.
—>Black's Beach- The Naked Truth<—
On the other hand, stopping at Scripps Beach and checking out the pier is still just as rewarding if you look for a short hike.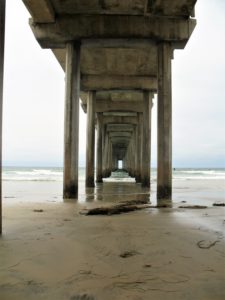 Making our way north, past the pier, we come upon Scripps Beach. There are always surfers in the water and a top spot for checking out the tide pools over at Dike Rock.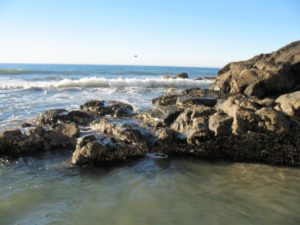 As you can see in the above photo, you can not pass on this beach unless the tide is extremely low.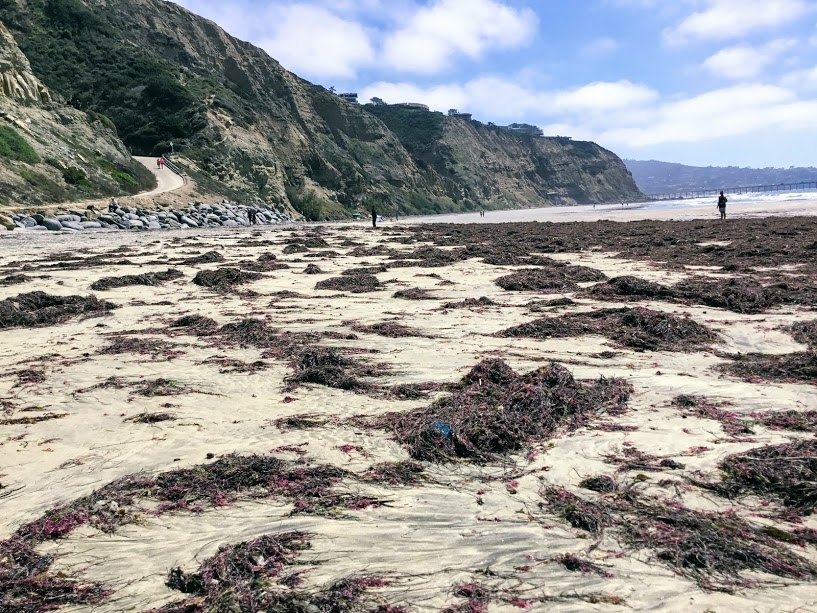 La Jolla Shores to Scripps Pier– .9 miles, 1.8 miles round trip
La Jolla Shores Beach to Black's Beach– 3 miles, 6 miles round trip
Amenities– no restrooms except at La Jolla Shores Beach
Things to see-
The Ellen Browning Scripps Memorial Pier
Scripps Institute of Oceanography Library
Dike Rock-tide pools
Scripps Coastal Reserve
Ho Chi Minh Trail
Torrey Pines Gliderport Trail
---
Walking Sunset Cliffs Natural Park Linear Trail
Another of the best San Diego hikes is on top of the bluffs of Point Loma over at the Sunset Cliffs Natural Park Linear Trail.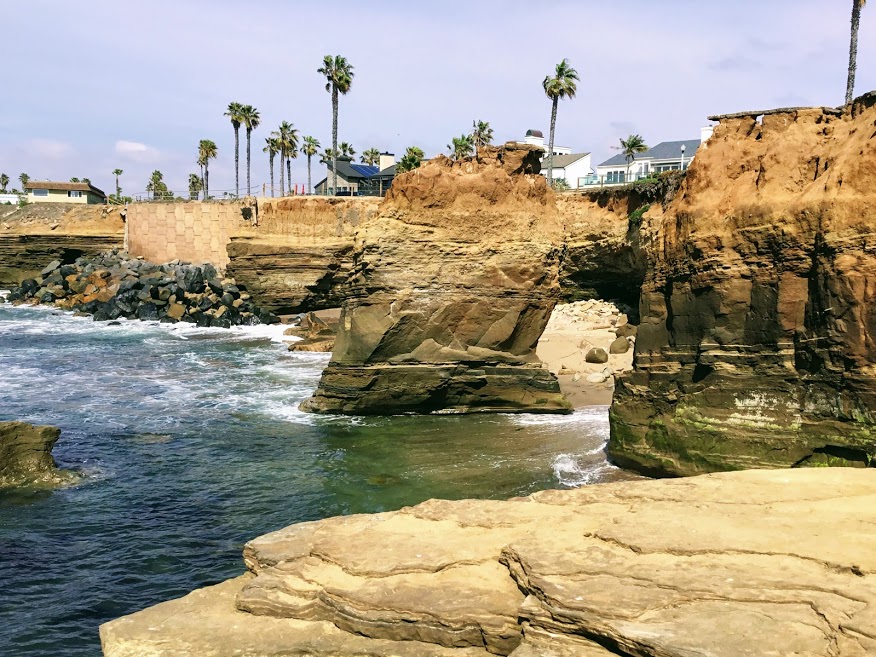 The bluffs of Sunset Cliffs are my number one pick for one of the best San Diego hiking trails that are relatively short and easy, with some of the most breathtaking views in the city.
—>Discover Sunset Cliffs Natural Park<—
I always take friends and family visiting from out of town to this spot. It is a great place to show off the beauty of Southern California.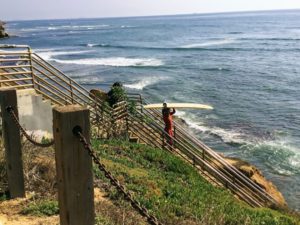 Sunset Cliffs Natural Park Linear Trail– 1.5 miles, 3 miles roundtrip
Amenities– no restrooms except over at the Ocean Beach Pier
Things to see-
unique cliffs and arches
marine life
surfers way out in the water
wildflowers
old architecture remnants (see the above link)
Sunset Cliffs Natural Park (Ladera St)
Directions
---
The Adventures of Hiking Coronado Beach
Another fabulous San Diego hike is on the beaches of Coronado. You will find humongous white sandy beaches to trek through to reach the water's edge.
Coronado Beach has always been my children's favorite, as they adore visiting the Hotel Del Coronado. There is so much rich history in Coronado, and I am happy that my children appreciate it so much.
Our usual hike begins at the Coronado dog beach, and we make our way south to Gator Beach.
It is essential to mention that Gator Beach is part of the Naval Amphibious Base Coronado; thus, you cannot walk past the beach markers, or you may get a ticket.
The beauty of Coronado Beach is that you can hike regardless of the tide because the beaches here are extensive.
Coronado Dog Beach to Gator Beach– 2.2 miles, 4.4 miles round trip
Amenities– There is a restroom between Coronado Dog Beach and the Hotel del Coronado inside the hotel. Also, there is an outside bar at the hotel.
What to see–
native plants in the sand as well as a secret message in the dunes
S.S. Monte Carlo shipwreck, which you can see with a very low tide-found south of the Hotel del Coronado
the sand glittering in the sun due to large amounts of mica being present
Hotel Del Coronado- definitely go inside and have a look!
Gator Beach is used to train Navy Seals, so maybe they will be practicing.
Directions–
Coronado Dog Beach- Ocean Blvd, Coronado
---
So what did you think? Which of my picks for the best San Diego hikes has piqued your interest? I love them all; that is why I am inclined to share! And again, check out the tide chart before picking a location!
Until next time!
© Colleen Fonseca  All rights reserved.
I have always had a deep-seated passion for the Ocean Environment which ultimately led me to receive a degree in Marine Biology. Living in the San Diego area for over 30 years, I have extensively explored the 70 miles of San Diego's coastline, and I am here to share! Please use my website to your advantage and have a look around at all the wonders that the beaches of San Diego can offer you!