Today I would like to do something fun! On October 12, my family and I were coming home from a trip to Idaho. I was fortunate enough to sit in a window seat and photograph my favorite beach in the universe-San Onofre State Beach on the airplane! Seeing that it was only 9 am, the lighting was perfect. As a bonus, the plane flew the entire coast of North County San Diego and did not turn inland until flying over Torrey Pines State Beach. Come and check out what I witnessed!
Flying Over San Onofre State Beach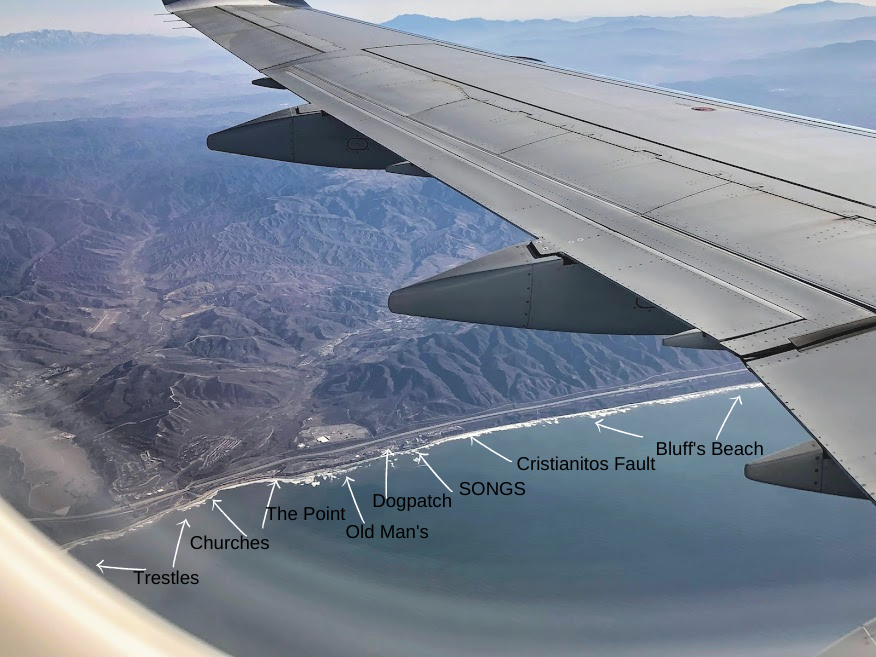 When I noticed that we were getting closer to San Diego, I eagerly awaited for us to arrive above my favorite beach, San Onofre/ Trestles. My love of the untouched and wild beaches of San Onofre State Beach can be seen in the number of times I have written about the area.
I have noted the surf break Churches in the photo above, the midpoint between Trestles and San Onofre State Beach.
Continue reading "Flying Over San Diego Beaches"
I have always had a deep-seated passion for the Ocean Environment which ultimately led me to receive a degree in Marine Biology. Living in the San Diego area for over 30 years, I have extensively explored the 70 miles of San Diego's coastline, and I am here to share! Please use my website to your advantage and have a look around at all the wonders that the beaches of San Diego can offer you!