Today I would like to do something fun! On October 12, my family and I were coming home from a trip to Idaho. I was fortunate enough to sit in a window seat and photograph my favorite beach in the universe-San Onofre State Beach on the airplane! Seeing that it was only 9 am, the lighting was perfect. As a bonus, the plane flew the entire coast of North County San Diego and did not turn inland until flying over Torrey Pines State Beach. Come and check out what I witnessed!
Flying Over San Onofre State Beach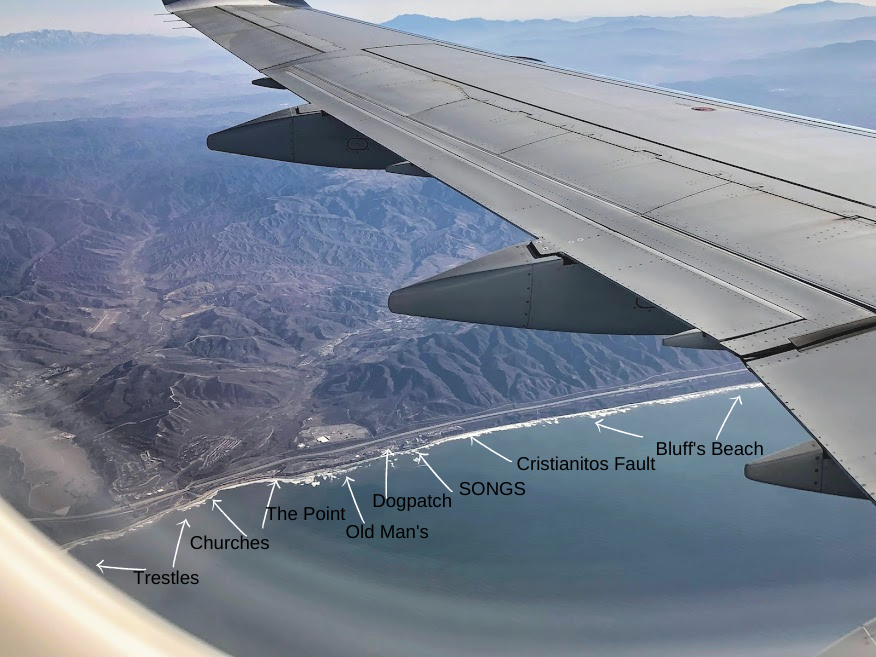 When I noticed that we were getting closer to San Diego, I eagerly awaited for us to arrive above my favorite beach, San Onofre/ Trestles. My love of the untouched and wild beaches of San Onofre State Beach can be seen in the number of times I have written about the area.
I have noted the surf break Churches in the photo above, the midpoint between Trestles and San Onofre State Beach.
This particular surf break, located next to the San Onofre Beach Campground, Camp Pendleton's private military campsite, was the site of a horrific shark attack in 2017.
Click on the link below for more information.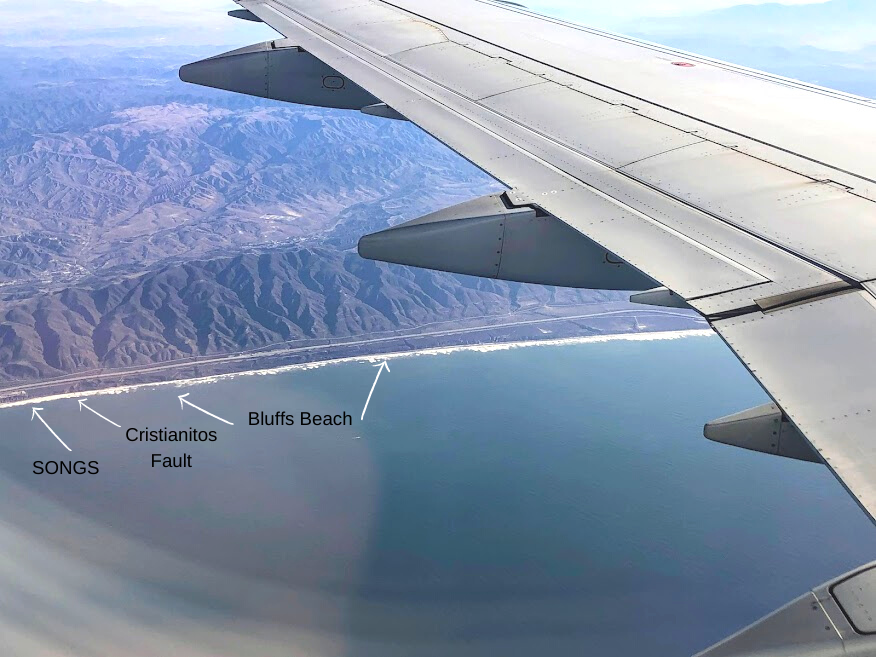 I love exploring all of the barrancas and badlands that define the beaches of San Onofre Bluffs Beach!
This view shows off how rugged it is over here.
Can you believe an earthquake fault line next to a nuclear power plant (SONGS)?
Click on the link below for more information!
Helpful Posts-
Zooming By Oceanside Harbor-Oceanside
Here is a view of Oceanside Harbor, which showcases how the Harbor is split into two. Camp Pendleton uses the north side while the right side is for civilian use.
Interestingly, this Harbor in the 1940s only served Camp Pendleton during WWll, and the civilian side wasn't made until the 1960s.
If you are interested, I found this exceptional explanation of how, when, and why the city of Oceanside created Oceanside Harbor.
Also, take note of the San Luis Rey River because this is one of the best places to check out traveling rare shorebirds during the wintertime.
If you look closely, you can also make out the San Luis Rey River Trail/ bike path, which takes you nine miles inland near Guajome Lake and Regional Park.
Loma Alta Creek, found just behind Buccaneer Beach, is also a fantastic place for birdwatching.
Recently the city of Oceanside has been making some much-needed improvements to this waterway, so I urge you to go check it out!
Again, there is a concise interpretive trail running parallel to the creek, where you can witness a plethora of unique shorebirds and native plants.
Flying Over Carlsbad-Buena Vista Lagoon and Agua Hedionda Lagoon
We got the best view of Carlsbad, and I appreciated the complete picture of Agua Hedionda Lagoon and Batiquitos Lagoon.
Know Carlsbad's beach situation is unique, as the only beach in the city is Carlsbad City Beach, located just south of Saint Malo Beach, which is on the border of Carlsbad and Oceanside.
Every beach south is a California State Beach-
Robert Frazee, Tamarack, Terramar, North Ponto, South Carlsbad State Beach Campground, South Ponto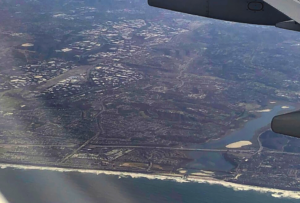 Take a look at the photo above. Do you see the light-colored sand island within the Batiquitos Lagoon?
Several man-made islands are nesting sites for the endangered California least tern and the Western snowy plovers. Click on the link below for a better explanation.
Helpful Posts-
My Favorite Stretch of Beach- Encinitas!
Oh, how I love Encinitas! Let me count the ways! My number one reason for loving this beach is free parking at Moonlight Beach or in the residential areas next to Swami's.
If I had to come up with how many times I have walked this stretch of beach, I would say at least well over 100 times.
Check out the links below to see why I love it over here so much, but let's keep it our little secret. Ok?
Helpful Posts-
Soaring Over Solana Beach and Del Mar
Solana Beach is one of the two places in San Diego where a fatal shark attack occurred in 2008.
I came across some interesting information about this area. According to marine biologist Chris Lowe, director of the Shark Lab at California State Long Beach, 30 juvenile great white sharks are located off Solona Beach and Del Mar.
He has been monitoring them for quite some time. Though the sharks are considered juvenile, they may measure up to eight to nine feet long.
Helpful Posts-
The Green Bluffs of Torrey Pines State Beach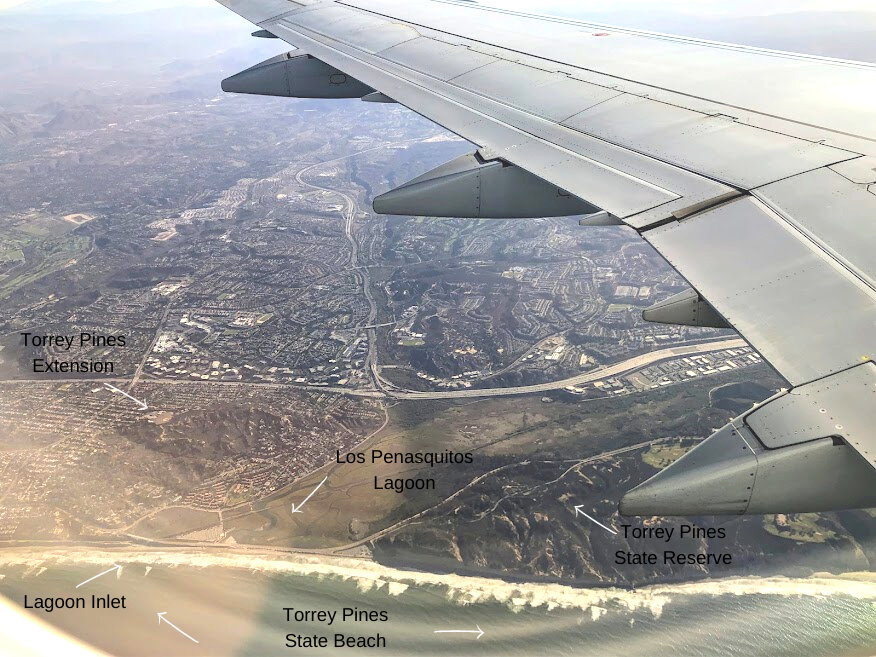 Unfortunately, after flying over Del Mar, the plane tilted a bit so that I couldn't see south Del Mar, but when the plane leveled out, North Torrey Pines State Beach with the lagoon was in full view.
Do you notice how green and rugged the hills are over here? This is where you can see the rarest pine tree in the world, the Torrey Pine tree.
There are two very rare ecosystems to experience above the bluffs at Torrey Pines State Natural Reserve.
Click on the link for a quick explanation of precisely what is considered maritime succulent scrub and maritime chaparral.
Helpful Posts-
Flying Over San Diego Bay
So now it is time to come into the landing position. I was fortunate enough to get these two shots. If you take a closer look, the North Island of the Los Coronados Islands of Mexico can be seen underneath the airplane wing.
These islands are found 15 miles south of Point Loma. The history is beyond fascinating! One day I am going to write more in-depth about them.
Helpful Posts-
---
As a bonus, here are two shots of Catalina Island that I have the pleasure of seeing on the way to Idaho.
Catalina Island is located 26 miles off the coast of Los Angeles County and has close geological ties to San Onofre State Beach.
So what did you think? I was beyond excited while I was editing the photos. There is something so special about seeing the coastline from a different perspective.
Please leave any comments or questions that you may have below.
Until next time!
I have always had a deep-seated passion for the Ocean Environment which ultimately led me to receive a degree in Marine Biology. Living in the San Diego area for over 30 years, I have extensively explored the 70 miles of San Diego's coastline, and I am here to share! Please use my website to your advantage and have a look around at all the wonders that the beaches of San Diego can offer you!