La Jolla is a popular seaside coastal community located 20 minutes from Downtown San Diego.  One of the very first places I take visitors from out of town is La Jolla. And once here, we venture off on a La Jolla coast walk.
Walking the Coast of La Jolla
There are so many things to experience in La Jolla, but it is an absolute must to walk the coast of La Jolla.
There are all kinds of things to do in La Jolla: such as hiking, beachcombing, biking, swimming, diving, snorkeling, kayaking, really the possibilities are endless here!
And do not get me started on all the fantastic photo opportunities available as well!
La Jolla Shores Beach
La Jolla Coast Walk
Before heading to downtown La Jolla, I first wanted to stop at La Jolla Shores, which is just 5 minutes north of our final destination. I wanted to come here so my Aunt could experience a sandy beach.
Since my early college days, we have been coming to La Jolla Shores Beach, and when I say us, I mean my husband and me.
Both of us have been fortunate enough to have grown up together (we met at 19), and this beach is very special to us.
The Ellen Browning Memorial Scripps Pier, which is found north on La Jolla Shore Beach, happens to be one of the most massive research piers in the world! If you look up on top of the hill, closes on the right, sits the Scripps Institute of Oceanography, Birch Aquarium (1992).
The Aquarium's history began in 1903 and was situated close to the beginning of the pier.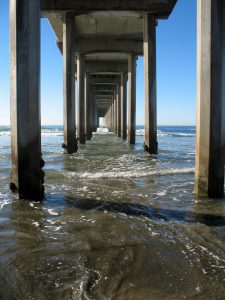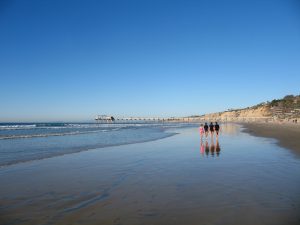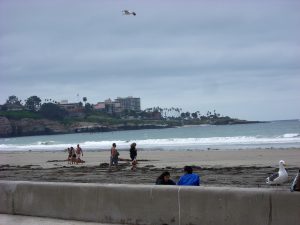 ---
La Jolla, California

La Jolla Coast Walk
Special thanks to Eugene V Ramos for allowing me to share this fantastic aerial view video of La Jolla.
---
---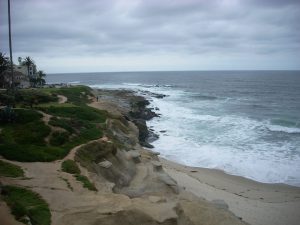 One thing about La Jolla it is tough to find parking! To ensure that I will find a spot, I almost always park at the city's southernmost point.
Parking here also guarantees that we can cover the entire area and go in a complete circle; therefore, not missing a thing. I  can not seem to get enough of this place!
Let's Go!
---
Wipeout Beach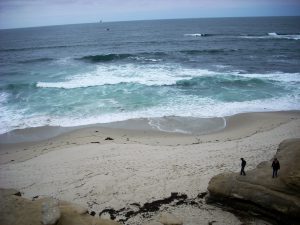 La Jolla Coast Walk
Wipeout Beach earned its name due to its exposure to strong ocean currents and rocky shorelines located just south of the Children's Pool.
This beach is a very famous site to dive when conditions are right, as there is abundant marine life swimming and attached to the many underwater shelves and arches. It is also a great place to find shells and explore tide pools on a low tide, of course.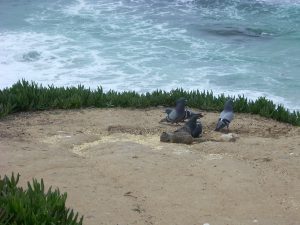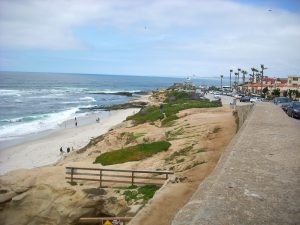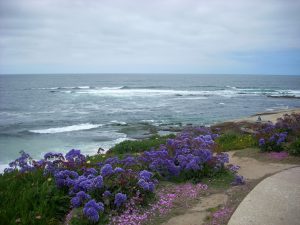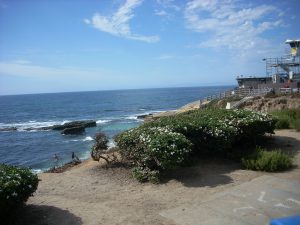 Here we are getting closer to the Children's Pool. When the tide is right, this is the spot that most people go down unto the sand to look for seashells or to enjoy the water.
---
La Jolla Children's Pool Beach
La Jolla coast walk
Moving on, we come to one of the most popular places in La Jolla- the Children's Pool Beach, also referred to as Cava Beach; I can not tell you how many times I have been here, at least 30.
Children's Pool Beach was a favorite spot for my husband and me to come when we were dating, not to mention the countless times I have brought people here visiting from out of town.
The Children's Pool Beach is primarily the home to the harbor seal (Phoca vitulina). At the same time, the California sea lion (Zalophus californianus) is found north of here at Boomer Beach and Seal Rock.
The way to tell the two apart is that the seals are quiet and undulate their bodies (wiggle around), while on the other hand, sea lions are very noisy and move around using their front flippers like appendages.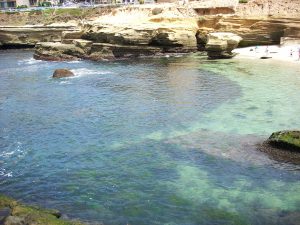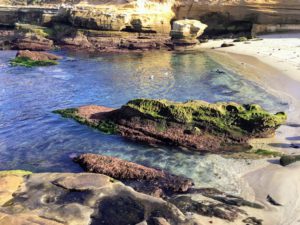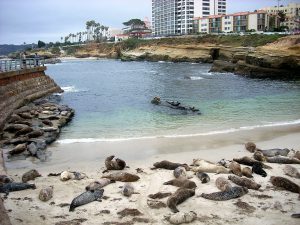 ---
Boomer Beach
LA Jolla Coast Walk
Continuing past the Children's Pool, we come upon Boomer Beach.
Being completely exposed to the force of the ocean makes Boomer Beach one of the most dangerous areas compared to the seclusion found at the Children's Pool or The La Jolla Cove.
Only the most experienced swimmer should enter the water here.
Here is where you can see, hear as well as smell the California sea lions!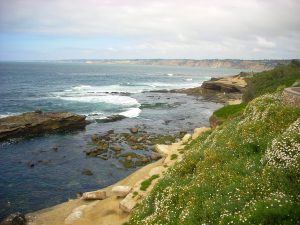 ---
 Point La Jolla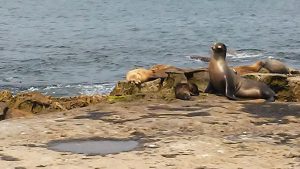 La Jolla Coast Walk
Point La Jolla is located north of Boomer Beach and west of the La Jolla Cove. The Point and is an excellent spot to observe the California sea lions reasonably close.
You should always stay at least 100 feet back and remain quiet.  For more information on observing marine mammals in the wild, check out the link below.
—>California Seal and Sea Lion Viewing Guidelines<—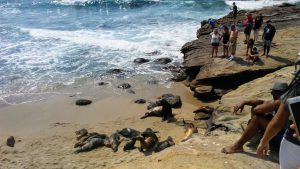 Here are a few pictures that I would like to add! You see, my girls and I came back here on a negative tide to see how the La Jolla shoreline would look. We were not disappointed!
While we were here, we were observing the sea lions. As you can see, there were quite a few lying around on the rocks. It seemed like we came to this spot in the middle of a commotion.
While approaching, we all heard the 'infamous' sea lion bark. You see, it appeared that the dominant male sea lion was aggressively defending his harem from a few juvenile males.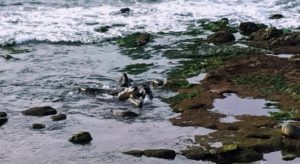 ---
La Jolla Cove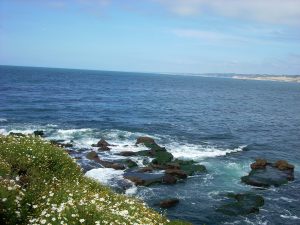 La Jolla Coast Walk
We approach one of the most popular and most used areas in La Jolla, the La Jolla Cove.
An ecological reserve in a protected cove teeming with marine life is what makes La Jolla Cove one of the most popular diving and snorkeling destinations in San Diego.
You will not quickly forget diving in La Jolla Cove; that is a guarantee!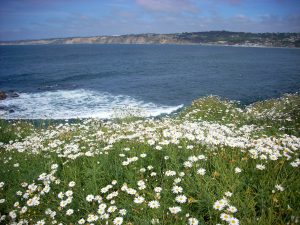 As we make our way more north, you can see the entirety of La Jolla Cove. Do you happen to notice the rock formation that is just right of the staircase? Well, here we have a mini-cave that I was able to go down and inspect. Let's have a look!
As we continue north, we are getting close to Goldfish Point, where the famous Sunny Jim cave is located.
---
The Sunny Jim Cave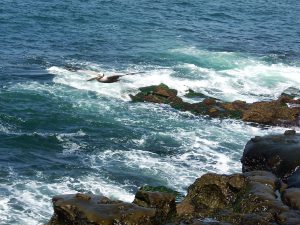 La Jolla Coast Walk
Goldfish Point, home of the Sunny Jim Cave, is a narrow cape that is a favorite spot for shorebirds. I highly recommend this area as a top birdwatching spot!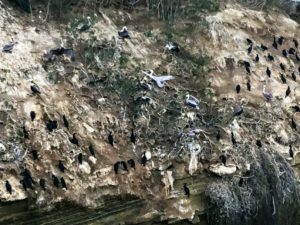 The Cave Store, situated in the northernmost area of Downtown La Jolla, has been located at this spot since 1902.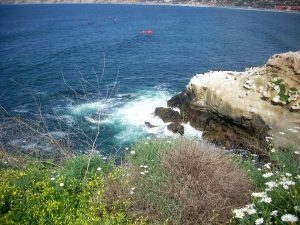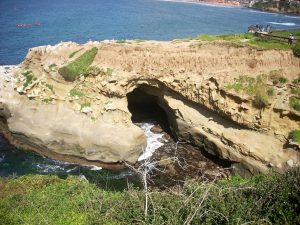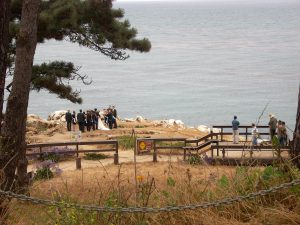 ---
The Cave Store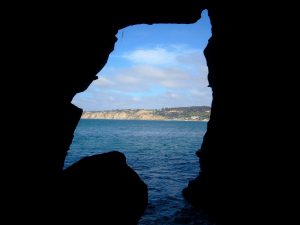 LA Jolla Coast Walk
Now we enter The Cave Store, home of the Sunny Jim Cave. Interestingly, Frank Baum, writer of the Wizard of Oz, gave this exclusive cave its name.
He believed that the cave opening looked very familiar to a mascot cartoon character for the British Forces Wheat cereal products in the 1920s.
Fun Fact-Starting in 1902 and completed in 1903 by two Chinese laborers using only a pick and shovel; this man-made tunnel became the first cave accessible by land on the entire California coastline. There is a small fee to descend the 145 steps, but it is well worth it.
OK, let us go down now.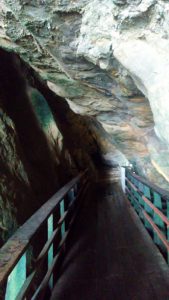 As you go down, you instantly feel underground by the chill in the air and the musky smells. The walls of the caves seem to be weeping, so I do not recommend touching anything.
Almost immediately, once entering, you will notice different colors in the rocks. These colors indicate what type of mineral deposits. For example, red is iron oxide, while purple is iodine from kelp matter, and black, grays, and yellow is vegetable matter.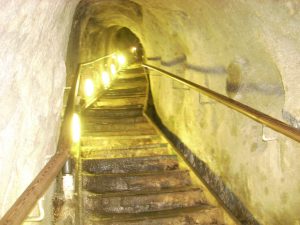 Upon returning up to the top, we love to browse around The Cave Store. I can not stand shopping, but I love this shop!   There are many unique products here.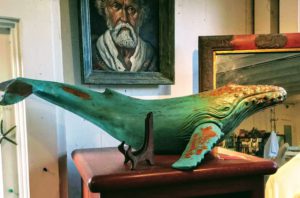 Downtown La Jolla
Afterward, we head across the street to check out all the Art galleries and shops found in Downtown La Jolla.
My two girls love to go into all of the various art galleries. With both of them being budding artists, how am I to resist?
Once you have had your fill with all of the galleries, shops, and restaurants, you may quickly head back to the coast by finding an alleyway.
Take your pick from three alleyways spread out along Prospect Steet that will connect you to the coast from Downtown.
I hope you enjoyed our La Jolla coast walk tour! How did you like the views? Have I tempted you on a trip down here? I sure hope so. Please leave any comments or questions you might have down below.
My only wish is that one day, you too can come and experience a La Jolla coast walk firsthand!
Please check back later, as I will be continuing our adventure on the original La Jolla coastal trail- The La Jolla Coast Walk Trail, which was established in 1900!
Until next time!
I have always had a deep-seated passion for the Ocean Environment which ultimately led me to receive a degree in Marine Biology. Living in the San Diego area for over 30 years, I have extensively explored the 70 miles of San Diego's coastline, and I am here to share! Please use my website to your advantage and have a look around at all the wonders that the beaches of San Diego can offer you!