Welcome to San Diego Beach Secrets! Today I would like to concentrate on the best San Diego family beaches. San Diego's 70 miles of coastline has many different types of beaches. The variety is endless, some of which you can only reach four times a year. But what does constitute a great family beach? My first pick would be calm waters, followed by soft sand, maybe a playground? But most definitely a restroom and showers. So, today I will be highlighting where, when, and how each beach is ideal for a spectacular family day at the beach.
Ready?
Let's go!
—>Beaches of San Diego County<—
Best North County San Diego Beaches for Families
Oh, how I love North County San Diego Beaches! These beaches (sans Oceanside) have huge and gorgeous sandstone bluffs accentuating the already beautiful Pacific Ocean.
Down below, I have three wonderful family beaches to share with you!
Let's go!
Oceanside Harbor Beach- Family Fun in Oceanside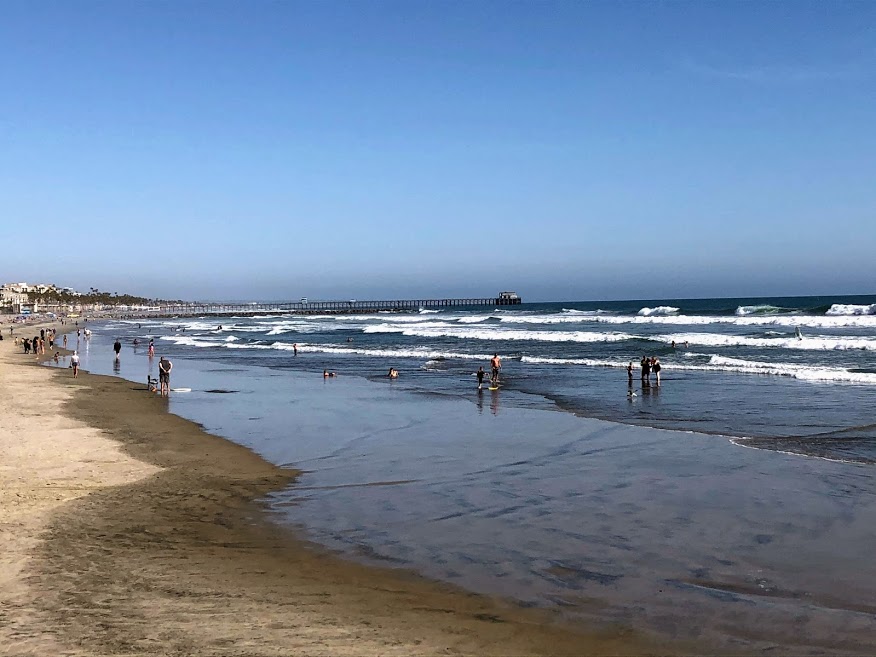 Oceanside Harbor beach is excellent for families because there are many amenities. What I think is the main draw is the extensive sandy beach.
Why?
free parking
snacks and supplies-Harbor and Deli Mart
food, and shops in the Oceanside Harbor Village
two restrooms
jetties for fishing
many lifeguard towers
fire rings
playground
wheelchair accessible
birding hotspot
Other Helpful Posts–
---
South Ponto Beach- South Carlsbad State Beach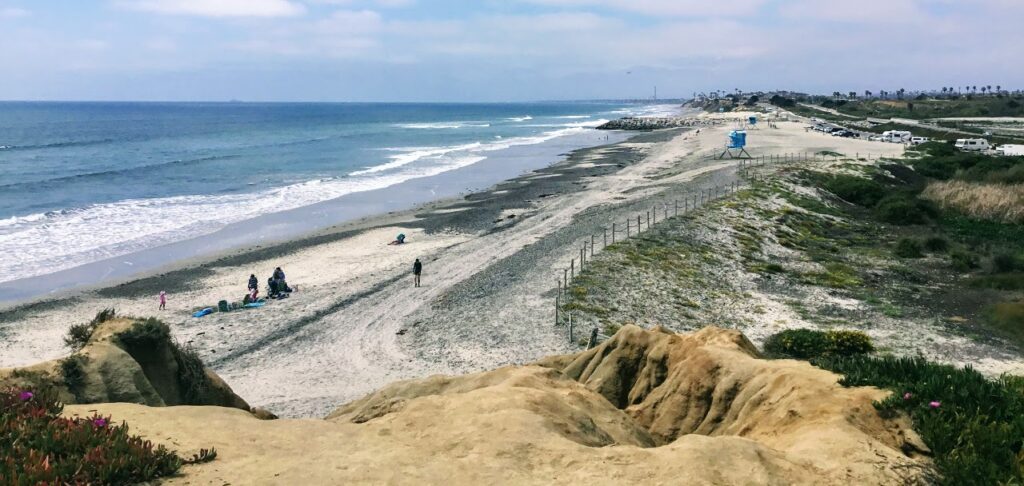 I love South Ponto beach compared to other beaches because fewer people are here.
I love solitude, and I also love to walk. Do you?
Over here, you have both.
Grandview Beach is found just south of here and is a top-rated surfing destination. So may I suggest that you and your kids take a very short stroll, that is, if the tide allows, and check out all of the action over at Grandview Beach?
Best Surfing Beaches in San Diego
Also, the Batiquitos Lagoon is located just behind the beach, so if you are looking for another little stroll with the kids, there is an excellent Nature Trail that hugs the lagoon to explore, which runs from the Nature Center for about 2 miles inland.
—>San Diego Lagoons and Nature Centers<—
Why?
huge sandy beaches to explore
large paid parking lots and restrooms
Batiquitos Lagoon is located behind this beach
South Carlsbad State Beach Campground to the north
Other helpful posts–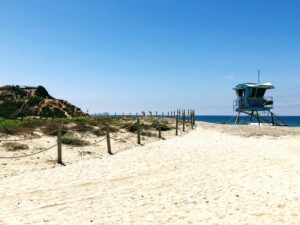 ---
My Personal Favorite Family Beach-Moonlight Beach-Encinitas

Oh, Moonlight Beach, how I adore thee. My family and I have been visiting this beach regularly every summer for over 18 years, so I am slightly biased.
So, where do I start?
Well, free parking has a big thing to do with it. But in all honesty, the large sandy beach alcove makes you feel like you are on vacation. Does that sound weird?
Anything and everything you could think of needing for the beach is available here. Forget sunscreen? Are you hungry? Moonlight Beach has you covered!
Why?
large FREE parking lot
restroom and shower
concession stand-food, rentals
playground
fire rings
picnic tables
volleyball courts
large white sandy beach
hiking potential
two large staircases located both to the north and south allow you killer views
several lifeguard towers, as well as the Main Lifeguard Tower
wheelchair accessible
Other Helpful Posts-
---
The  Best Family Beach in San Diego Proper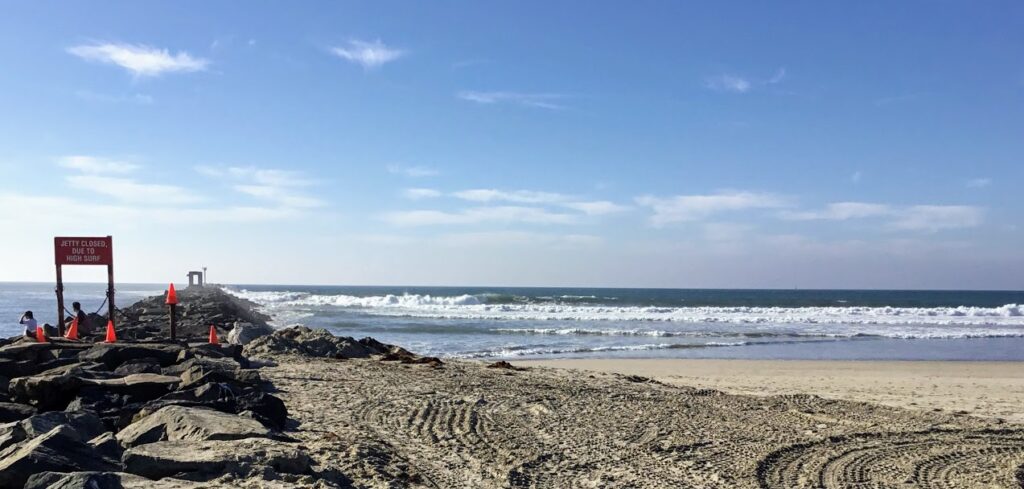 So now that I have selected my top beaches up in North County, San Diego, let us look at the best San Diego City beaches!
For better clarification, all beaches listed below are part of the city of San Diego, while those listed previously are considered San Diego County.
La Jolla Shores Beach- Is Number One!
The City of San Diego starts right after Del Mar, so the northern border begins at La Jolla. The beaches in La Jolla are simply some of the most beautiful in Southern California, but not all are 'family-friendly.'
The calm waters at La Jolla Shores Beach, a part of the La Jolla Underwater Park, make it my number one pick for the best San Diego family beach!
Discover what La Jolla Underwater Park has for you!
Why?
A good-sized grassy lawn is lined with the most peculiar yet breathtaking trees. It is a glorious spot to have a picnic before enjoying the beach. We did this several times when my children were tiny.
It is so much easier not to deal with sand when eating, yes? Especially with toddlers!
The beach here is relatively large compared to most in the area. What makes it unique is the offshore trenches that keep the waters here relatively calm.
huge free parking lot
wheelchair accessible
playground
picnic tables
fire pits
Scripps Pier to the north and tidepools to the south
small beach boardwalk for strolling
sea caves to the south (tide-dependent)
snorkeling, diving, swimming, paddle boarding, kayaking
Other helpful posts
---
Mission Beach
Why?
world-famous Mission Beach Boardwalk-Ocean Front Walk (2.75 miles from the South Mission Beach jetty to the Crystal Pier in Pacific Beach)
food booths and games, and rides
large free parking lot
Mission Beach was the very first San Diego beach that I ever visited!
I was eight, and we came to San Diego to go to SeaWorld on a family vacation.
Now, this beach is one of the busiest beaches in San Diego. But, if by some chance you can visit this beach during the week, I assure you, you will appreciate it.
I suggest sitting a bit south of Mission Beach Boardwalk, as it can get unruly. Also, sitting as close to the lifeguard tower as possible is a good idea, especially if you have tiny children.
Believe me when I tell you that you will have loads of fun people-watching over here! You never can guess what you may see next.
Other Helpful Posts-
---
So what do you think? Where do you think you want to spend the day with the family? You can never go wrong when visiting the beaches of San Diego!
Do you have any questions? Please feel free to leave any comments or questions down below.
Until next time!
I have always had a deep-seated passion for the Ocean Environment which ultimately led me to receive a degree in Marine Biology. Living in the San Diego area for over 30 years, I have extensively explored the 70 miles of San Diego's coastline, and I am here to share! Please use my website to your advantage and have a look around at all the wonders that the beaches of San Diego can offer you!