Southern California has been experiencing a terrible heatwave for the past week, so I went to the coast for much-needed relief! My girls and I decided to head over to Oceanside Harbor Beach. While heading to the restroom, I looked at the Oceanside Harbor boat launch. Below, I will showcase some of the highlights of San Diego's North County-only Ocean boat launch ramp.
First, I have a complete informational post that lists all of the San Diego Launch Ramps. (Click on the link for more information)
Oceanside Harbor Map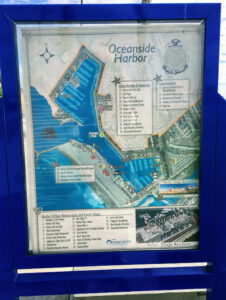 Oceanside Harbor is 38 miles north of Downtown San Diego and  27 miles south of Orange County's Dana Point Harbor Boat Launch Ramp. So the question is if you live in San Diego, is the  Oceanside launch ramp worth the trip? If you live in North County, San Diego, then it is, yes?
But is it?
Below, I will showcase the west side of Oceanside Harbor, where the boat launch is situated. I love this ramp because everything is close to each other. But if you think about it, this feature could be a negative attribute if it is busy.
Here is a PDF file of the Harbor map. I encourage you to print it out, as it is a great reference to use the next time you are in the area!
West Oceanside Harbor
Hours- The Oceanside Harbor launch ramp is open 24 hours.
NOAA Nautical Chart Catalog and Chart View-#18774– Special Note- this chart is to be used as a planning or analysis tool and may not be used as a navigational aid. Soundings on this chart are given in fathoms, and one fathom equals 6 feet, so keep this in mind when using this chart.
Oceanside Harbor Office- 
1540 Harbor Drive North
8 am- 4:30 pm Monday-Saturday
(760) 435-4000
Parking- There are 110 paid parking spaces for cars with boat trailers adjacent to the launch ramp. 
Parking Rates–
September 16 to May 14- $3/hour or $10/day
May 15 to September 15- $4/hour or $15/day
Free parking over at Parking Lot 1, which is east of the train tracks
Oceanside City Parking Rates– here is a pamphlet that I found for you to use as a handy guide the next time you visit Oceanside
Oceanside Boat Launch- An Intimate Take
Let's now take a look at what the Oceanside Harbor boat launch ramp has to offer.
First off, the launch ramp features four lanes with four boarding floats. For the public interest, located to the ramp's left, a wheelchair ramp leads down to the tie-up docks, allowing for much easier access for individuals who use wheelchairs.
Secondly, both the bait barge and fuel dock are found immediately after leaving the launch. Proximity is what makes Oceanside Harbor so user-friendly. Everything, including the entrance to the Ocean, is relatively close to the launch ramp.
Wheelchair Accessible Ramp–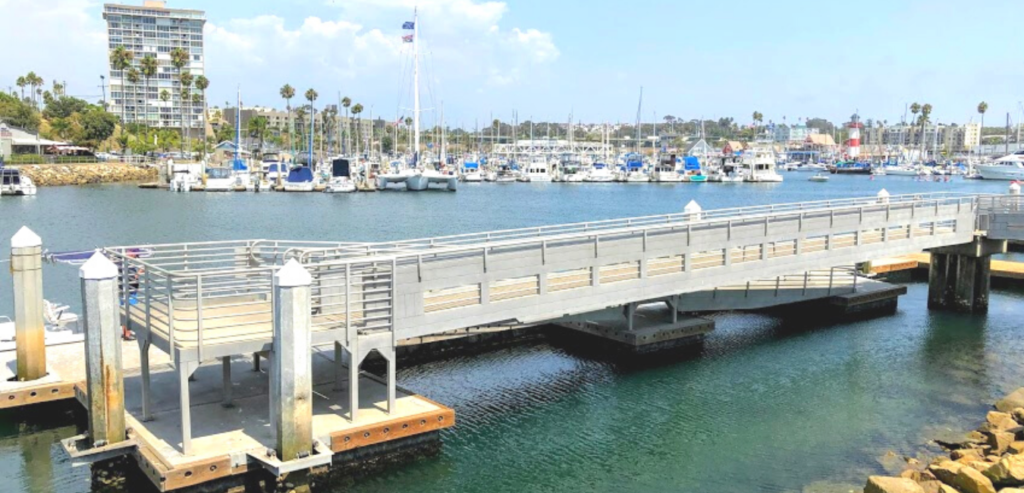 The United States Coast Guard Auxillary Office
The Coast Guard office is conveniently found just left of the ramp.
The United States Coast Guard Auxillary's primary mission statement- "Recreational boating safety- consists of our many boating safety classes, distribution of boating safety information providing free vessel safety checks, and doing safety patrols on land, water, and in the air. Support of Maritime Homeland Security and other maritime safety challenges that have emerged in recent years."
Phone number- (760) 435-4000
Oceanside Bait Company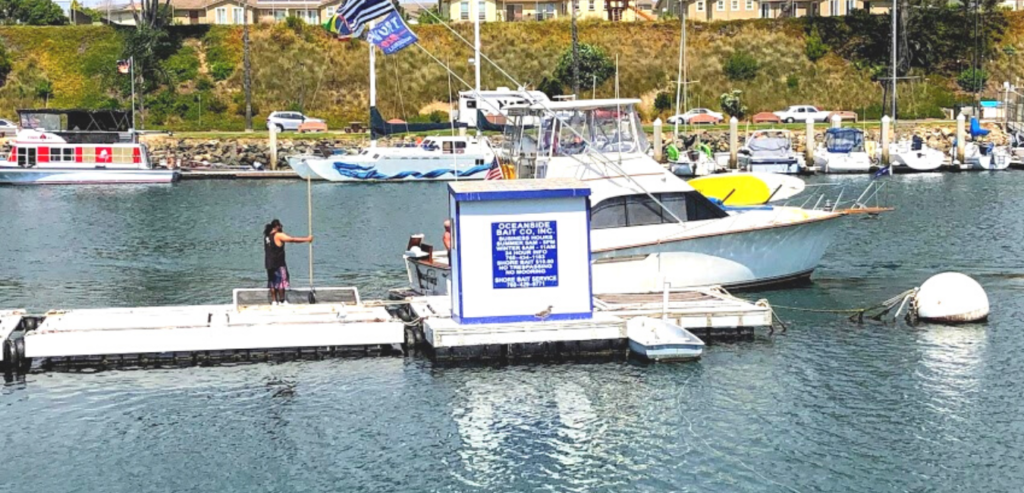 Phone-(760) 434-1183-Channel 11
Hours-
Summer

Monday-Friday- 5 am to 11:00 am
Saturday -Sunday- 5 am to 12:30 pm

Winter

Monday-Friday- 6 am to 11 am
Saturday-Sunday- 6 am to 12:30 pm
Prices–
1/2 Scoop-$20
Full Scoop- $30
Pelican Harbor Fuel Dock and Mini Mart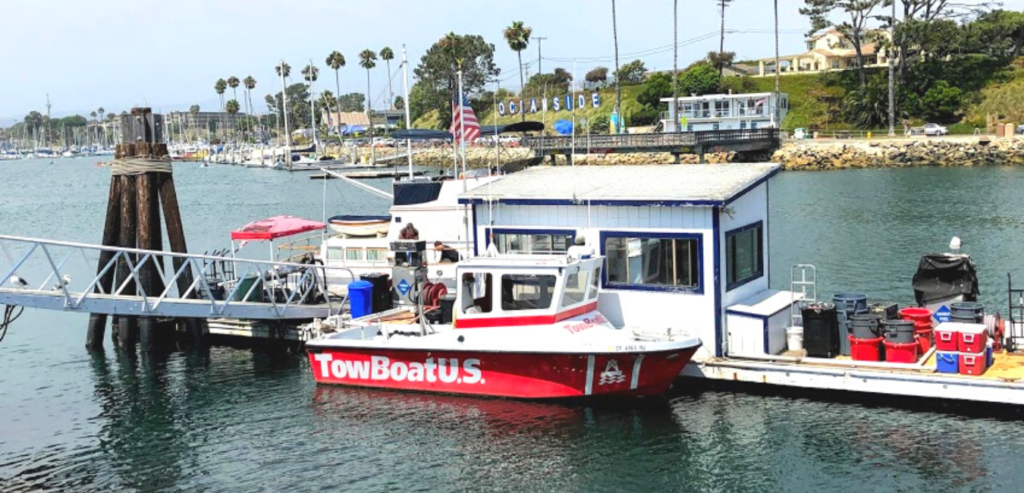 Otherwise known as Oceanside Harbor Fuel Dock
Address– 1380 North Pacific Street
Phone- (760) 722-5853
Hours– Monday- Sunday- 7 am to 6 pm
Website– www.dbw.ca.gov
You have the Pelican Harbor Deli Mart and Fish Market behind the fuel dock, where you can stock up on ice, snacks, sunscreen, and more! Here we have Oceanside Harbors' convenience store, where you can stock up on your needs before heading to sea. You can also purchase fresh fish on the way home if you "get skunked."
Reading the reviews online, I learned they were known for their breakfast burritos and hot deli sandwiches. Look at the website provided above to look at the menu for more information.
I will try them the next time I am at Oceanside Harbor Beach!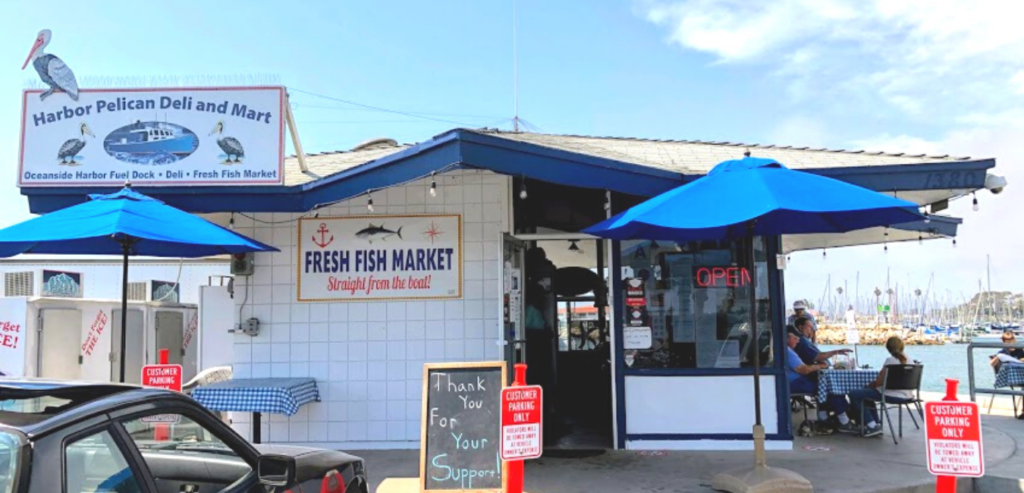 Camping at Oceanside Harbor
RV camping is available in Parking Lot 11B year-round and Parking Lot 12 from Sept 15 to May 15. Camping is on a first-come-first-serve basis, as no reservations are needed.
Pop-ups, slidings, awnings, and tents are not allowed.
Rates are $20 daily, with a five-night limit per thirty days.
The Mysterious Clapping Circle-
If you visit Oceanside Harbor, you must stop for a minute and check out the clapping circle in the center of the parking lot near Lot 11.
Stand in the middle of the circle and clap. Rather than hearing what you would expect, a squeaking sound is emitted. The only way I can explain the sound is that it sounds similar to that of a dolphin.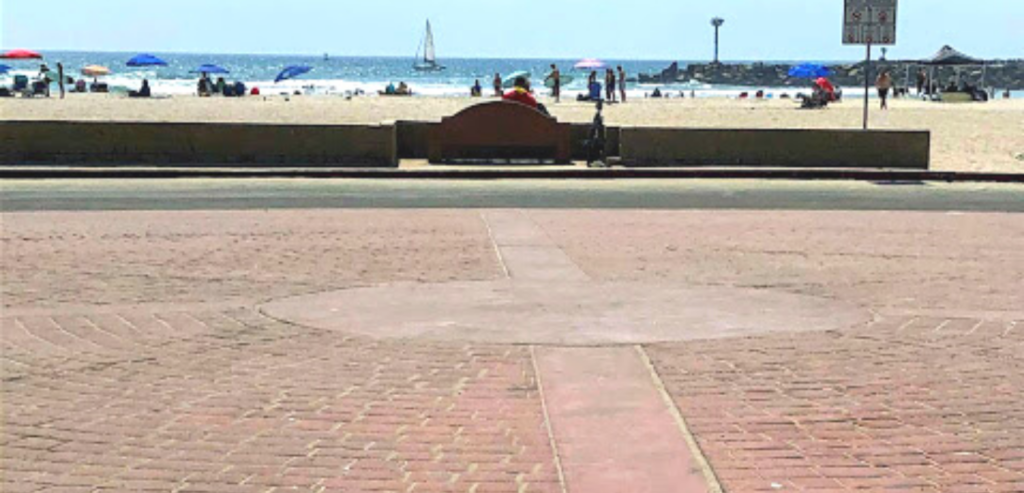 Pro's and Con's-Oceanside Harbor Boat Launch Ramp
While researching, I found a lot of informative information via reviews on fishing website platforms. I love going here to the Harbor, but I do not have a boat or a trailer, and I do not fish, so let's see what others who are far more knowledgeable than me have to say, shall we?
Pros-
less than five minutes away from the Ocean
free parking (east of the railroad tracks)
bait barge
fuel dock
ice/refreshments
Coast Guard Station adjacent to the launch ramp
freshwater washdown station
camping available
Oceanside Harbor Village-restaurants and shops

Harbor Fish and Chips (my favorite!)-http://harborfishandchips.net/
Cons-
extremely busy
strick parking/ticket happy
tricky entrance into the Harbor, especially on a W or WSW swell
extremely busy
---
Here are a few more photos to better understand the area.
My family and I have visited Oceanside Harbor for over thirty years. We have many, many fond memories of our experiences here.
So to answer my question, yes, I feel that even though it can be hectic over here, it is worth it in the long run.
Thanks for stopping by, and until next time!
–>More Oceanside Information<–
---
---
I have always had a deep-seated passion for the Ocean Environment which ultimately led me to receive a degree in Marine Biology. Living in the San Diego area for over 30 years, I have extensively explored the 70 miles of San Diego's coastline, and I am here to share! Please use my website to your advantage and have a look around at all the wonders that the beaches of San Diego can offer you!