It is that time of year again! The Grunion are here! If you recall, last year, we in California could not see the grunion last March and April, as we were not allowed anywhere near the water. Well, this year is different, and I, for one, am heading down this month to check them out in person. Down below, I present to you the 2021 grunion run schedule for Southern California.
What is a Grunion, and How Do They Run?
The grunion (Leuresthes tenuis) are small silvery fish between 5 to 7 inches long that live about 3 to 4 years. Each year, between March and September, the grunion comes onto Southern California's beaches to spawn during the Full and New Moons.
The female grunion catches a wave onto the beach and digs a hole while waiting for the males to touch her. Once touched, she will release her eggs, and the males will then release their milt (sperm) on her body, which then flows down onto the eggs.
The whole process happens rather quickly, and up to eight males may fertilize each female. An interesting fact is that the female grunion may be out of the water for over five minutes! Once the male is done, he will catch a wave back out into the ocean.
Each grunion run lasts for four consecutive days when the tide is at its highest and longest. The eggs are buried in the sand for two weeks until the next high tide arrives. When the larvae become agitated by the waves, they hatch and are taken back into the ocean by the tide.
April and May are peak spawning months, so only observation is allowed.
I have written extensively about the process and noted a few fascinating characteristics of the grunion, so please click on the link provided below if you would like more information.
Do You Need a Fishing License?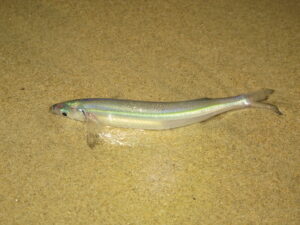 If you plan on taking or touching any of these fish and you are over the age of 16, you will need to have a fishing license.
You may only take the grunion by hand, and you may dig no holes. So if you do not have a fishing license, do not touch the fish.
There is no bag limit, but it has been noted on California's Department of Fish and Wildlife's website that it is unethical and unlawful to waste fish, so please only take what you need.
Again, click on the link provided up above for more detailed information.
When Will the Grunion Run in 2021?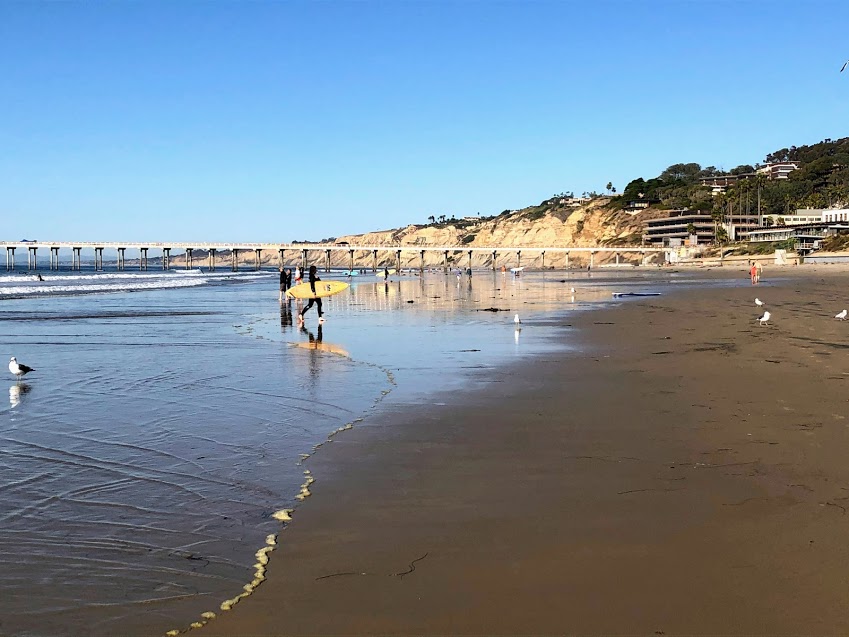 *All times listed are for Los Angeles County at Cabrillo Beach- so for San Diego County, times are five minutes early, while up further north, in Santa Barbara County, the times will be 25 minutes later
March 
3/13 Saturday 9:40 pm – 11:40 pm
3/14 Sunday 11:00 pm – 1:00 am
3/15 Monday 11:25 pm- 1:25 am
3/16 Tuesday 11:50 pm- 1:50 am
3/28 Sunday 10:10 pm- 12:10 am
3/29 Monday 10:40 pm- 12:40 am
3/30 Tuesday 11:15 pm- 1:15 am
April  (Observation Only)
3/31 Wednesday 12:00 am- 2:00 am*
4/12 Monday 10:15 pm- 12:00 am
4/13 Tuesday 10:35 pm- 12:35 am
4/14 Wednesday 11:00 pm- 1:00 am
4/15 Thursday 11:25 pm- 1:25 am
4/27 Tuesday 10:05 pm- 12:05 am
4/28 Wednesday 10:45 pm- 12:45 am
4/29 Thursday 11:30 pm- 1:30 am
4/30 Friday 12:15 am- 2:15 am*
May (Observation Only)
5/11 Tuesday 9:35 pm- 11:35 pm
5/12 Wednesday 10:00 pm- 12:00 am
5/13 Thursday 10:25 pm- 12:25 am
5/14 Friday 10:55 pm- 12:55 am
5/26 Wednesday 9:40 pm- 11:40 pm
5/27 Thursday 10:25 pm- 12:25 am
5/28 Friday 11:10 pm- 1:10 am
5/29 Saturday 12:05 am- 2:05 am*
June
6/10 Thursday 9:35 pm- 11:35 pm
6/11 Friday 10:05 pm- 12:05 am
6/12 Saturday 10:40 pm- 12:40 am
6/13 Sunday 11:20 pm- 1:20 am
6/24 Thursday 9:25 pm- 11:25 pm
6/25 Friday 10:15 pm- 12:15 am
6/26 Saturday 11:00 pm- 1:00 am
6/27 Sunday 11:50 pm- 1:50 am
July
7/10 Saturday 10:00 pm- 12:00 am
7/11 Sunday 10:35 pm- 12:35 am
7/12 Monday 11:10 pm- 1:10 am
7/13 Tuesday 11:55 pm- 1:55 am
7/24 Saturday 10:05 pm- 12:05 am
7/25 Sunday 10:50 pm- 12:50 am
7/26 Monday 11:35 pm- 1:35 am
7/27 Tuesday 12:20 am- 2:20 am*
August
8/8 Sunday 9:45 pm- 11:45 pm
8/9 Monday 10:25 pm- 12:25 pm
8/10 Tuesday 11:05 pm- 1:05 am
8/11 Wednesday 11:45 pm- 1:45 am
8/22 Sunday 9:55 pm- 11:55 pm
8/23 Monday 10:35 pm- 12:35 am
8/24 Tuesday 11:15 pm- 1:15 am
8/25 Wednesday 11:55 pm- 1:55 am
*-If the time is near Midnight, the previous evening date will be listed
Where are the Best Places to See the Grunion in San Diego?
As a rule, the grunion prefers to spawn on dark, flat sandy beaches with a slope.
Keep in mind that the fish do not like light, so try not to shine your flashlights on them.
My top picks to see the grunion run in San Diego County are the following (from North to South)-
Oceanside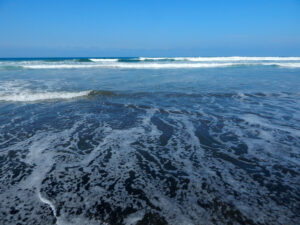 All beaches north of Oceanside Pier have the most sand available during high tide, while south of the pier, the sand is all wet during the high tide. So my top pick in Oceanside would be Oceanside Harbor Beach.
Torrey Pines State Beach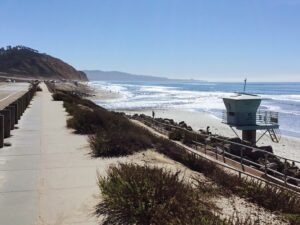 There is easy access to witness the event next to the two available parking lots, so there is no need to walk further along the coastline.
La Jolla Shores Beach
If I had to make my top pick of the best beach to see a grunion run, this beach would be it. There is free parking, which is always a plus, and two restroom facilities close by.
North Pacific Beach
Parking over here may be tricky as this city is known to party through the night.  Due to the lack of light, a good choice would be over at Tourmaline Beach or the residential beach on Law Street. Free parking and restrooms are available at both beaches.
Mission Beach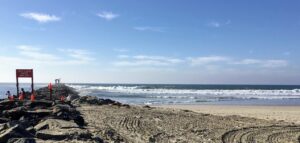 My top location over here would be next to the jetty over at South Mission Beach.  There is ample free parking as well as a restroom. Over here is also a great place to watch the boats come in and out of Mission Bay.
Ocean Beach
Anywhere north of the pier, and the further, the better. A good spot would be at Dog Beach, as there is less light over there. Free parking and a restroom are available as well.
Coronado Beach
Over between the Hotel del Coronado and Coronado Dog Beach- again, anywhere that is dark. It is deafening over here due to the Naval Air Base. Parking may be tricky, but try looking around the residential neighborhoods.
Silver Strand Beach
It is located just south of Coronado; it is rarely crowded and is perfect for the grunion run. Take note that this beach is very close to the US/Mexican Border, and historically, the water is not the cleanest. There is only paid parking available here, as it is a campground.
Final Thoughts- Grunion and Great White Sharks?
Before ending, I wanted to share something with you.
Did you realize that San Diego is known as a great white shark nursery? Adult females travel to San Diego and leave their pups here. These babies are between 5 to 7 feet long, and one of their favorite treats is grunion.
So through the years, it has been noted that there is an increase in shark sightings and attacks when the grunion are running. Take a look at the link provided below if you would like more information.
Have fun, stay safe, and always be aware of your surroundings.
Until next time!
I have always had a deep-seated passion for the Ocean Environment which ultimately led me to receive a degree in Marine Biology. Living in the San Diego area for over 30 years, I have extensively explored the 70 miles of San Diego's coastline, and I am here to share! Please use my website to your advantage and have a look around at all the wonders that the beaches of San Diego can offer you!