It has taken me a bit to tell you that the grunion, Southern California's infamous fish, mating season is upon us! Why? Well, at this time, all the San Diego County beaches were closed; thus, all citizens were barred from experiencing the coastline, so I hesitated. The Department of Fish and Wildlife even took the chart off its website, and their reasoning was not to encourage people to come to the beach and witness this phenomenon. Below, I present the San Diego grunion run scheduled for May- September, anticipating that the beaches will be open on May 1st (fingers crossed).
First, I will give you a little background information on why this is such a spectacular event, followed by my recommendation on the best beaches in San Diego that would be ideal for witnessing the grunion mating dance.
What is a Grunion Run, and Why is it a Big Deal?
The grunion (Leuresthes tenuis) is a type of smelt that is small, silvery, and about the size of a sardine. These fish are only found off the coast of Southern California, from San Luis Obispo down to Northern Baja California.
So what is the big deal, and why is there a schedule? Well, between March and September, the grunion comes onto the beach to spawn during a full or new moon when the tides are at their highest.
Grunion Run Spawning Ritual
Every Spring and Summer, from March to September, grunions use the moon to indicate when it is time to spawn. For four consecutive nights, under a Full of New Moon, spawning occurs when the tide becomes the highest and last for several hours.
The female grunion catches a wave with one to eight males surrounding her. Once onshore, the females swim as far up the slope as possible. Once situated, she will wiggle her tail within the liquid sand to make a small hole and bury its tails. Then, when a male touches her, she will automatically release her eggs.
Once she is secure, a male will wrap around the female to deposit his milt (sperm) on her body. The milt will then travel down her body, making its way to fertilize the eggs. Up to eight males may fertilize one nest.
There can be thousands of grunion mating on the beach simultaneously. Can you imagine seeing all the fish heads sticking out of the sand with fish scarfs?
You have to see it, to believe it!
What Happens After the Spawning?
When the male is done doing his job, he will immediately catch a wave back into the water. The female grunion might take a bit longer to wiggle out of her hole and can be out of water for over five minutes.
In the meantime, the fertilized eggs remain entirely within the sand for two weeks until the next highest tide comes in. The eggs are kept moist by residual water in the sand. Once the tides are high enough again, the larvae will hatch when submerged and agitated by the waves and finally be taken back into the ocean.
Now, do you see what the big deal is? A fish that mates and leaves its eggs on land? A fish that reproduces on the ground? Really?
Yes, and it is fantastic to experience firsthand!
A Few Grunion Facts For You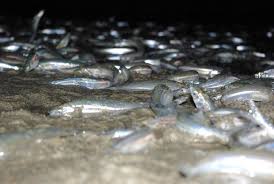 within the family, Atheriniopsidae (top smelt, jacksmelt)
long, slender fish with a dark back with a silver-blue lateral stripe

5 to 7 inches long
maximum size of 7.5 inches (four years old)

3 to 4-year lifespan
mating begins at age one

females spawn up to six times each season
lay between 1600 to 3600 during one spawn

spawning season from March to September, with the peak in April and May

spawning takes less than 30 seconds
Grunion Run Viewing Tips
These exceptional fish prefer vast sandy beaches with soft sand and a gradual slope. Seeing that this event takes place at night, people usually bring flashlights, but the grunions do not appreciate the light, so keep this in mind. They prefer to spawn in the darkest areas of the beach.
Also, when observing, ensure that you step very lightly, as the vibration of the feet will also scare the fish.
If you are interested in catching these fish, you may, but not during the peak months of April and May.
A fishing license must be displayed for those 16 and over.
There is no bag limit, but you can only use your hands; no other equipment is permitted. Also, you may not dig holes to collect them.
Catch and release are permitted, but why would you want to do that?
If you do not want to eat the fish, I say leave them be. Handling them to say you have can damage the fish—something to keep in mind.
Grunion Run 2020 Schedule
May (observation only)
5/7 Thursday 9:55 pm – 11:55 pm
5/8 Friday 10:30 pm – 12:30 am
5/9 Saturday 11:10 pm – 1:10 am
5/10 Sunday 11:55 pm – 1:55 am
5/22 Friday 9:30 pm – 11:30 pm
5/23 Saturday 10:00 pm – Midnight
5/24 Sunday 10:35 pm – 12:35 am
5/25 Monday 11:10 pm – 1:10 am
June
6/5 Friday 9:30 pm – 11:30 pm
6/6 Saturday 10:10 pm – 12:10 am
6/7 Sunday 10:50 pm – 12:50 am
6/8 Monday 11:35 pm – 1:35 am
6/21 Sunday 9:45 pm – 11:45 pm
6/22 Monday 10:25 pm – 12:25 am
6/23 Tuesday 11:05 pm – 1:05 am
6/24 Wednesday 11:55 pm – 1:55 am
July
7/4 Saturday 9:15 pm – 11:15 pm
7/5 Sunday 9:55 pm – 11:55 pm
7/6 Monday 10:40 pm – 12:40 am
7/7 Tuesday 11:20 pm – 1:20 am
7/20 Monday 9:35 pm – 11:35 pm
7/21 Tuesday 10:20 pm – 12:20 am
7/22 Wednesday 11:00 pm – 1:00 am
7/23 Thursday 11:50 pm – 1:50 am
August
8/3 Monday 9:45 pm – 11:45 pm
8/4 Tuesday 10:25 pm – 12:25 am
8/5 Wednesday 11:00 pm – 1:00 am
8/6 Thursday 11:35 pm – 1:35 am
8/18 Tuesday 9:25 pm – 11:25 pm
8/19 Wednesday 10:10 pm – 12:10 am
8/20 Thursday 10:55 pm – 12:55 am
8/21 Friday 11:40 pm – 1:40 am
September
9/1 Tuesday 9:35 pm – 11:35 pm
9/2 Wednesday 10:05 pm – 12:05 am
9/3 Thursday 10:40 pm – 12:40 am
9/4 Friday 11:10 pm – 1:10 am
Best San Diego Beaches to See the Grunion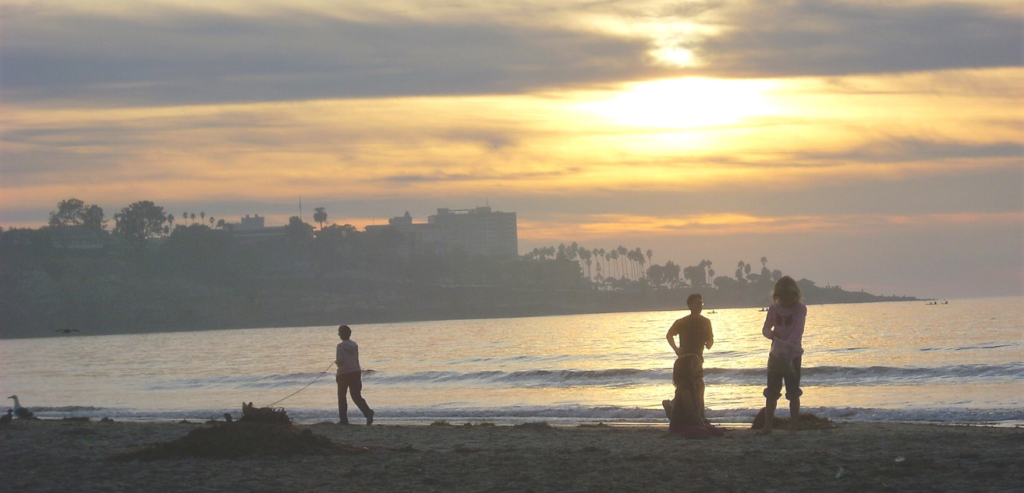 As I mentioned above, the grunion appreciates vast sandy beaches which have a gradual slope, so the best San Diego beaches that I can come up with are the following-
Oceanside Harbor Beach
Del Mar City Beach
Mission Beach
Ocean Beach
Coronado Beach
Imperial Beach
I have always had a deep-seated passion for the Ocean Environment which ultimately led me to receive a degree in Marine Biology. Living in the San Diego area for over 30 years, I have extensively explored the 70 miles of San Diego's coastline, and I am here to share! Please use my website to your advantage and have a look around at all the wonders that the beaches of San Diego can offer you!