On June 15, 2021, one of my best friends and I took her two dogs to Fiesta Island at Mission Bay Park. Though I have been visiting Fiesta Island for over 30 years, today was the first time I entered the infamous leash-free dog park; this place is magical! Ironically, the next day, the California Coastal Commission formally decided that Fiesta Island Dog Park would stay the same way it had been for years- rustic and undeveloped. I had no idea this was up for a vote.
A bit more commentary on this subject later.
So as I said before, I have been coming here for years, but in 2018, I did a photoshoot of the island. I was surprised at how special it is over here. Would you care to see what I saw?
Let's also look closely at all the things you can enjoy at Fiesta Island. As a bonus, I will include phone numbers and links to relevant websites about this area!
A Few Mission Bay and Fiesta Island Facts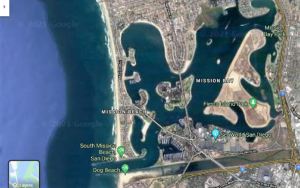 Phone Number– (619) 235-1169
Hours– 4:00 am to 10:00 pm
Click on the map below for a better idea.
#– Fiesta Island Dog Park is open 24 hours, seven days a week, but the island is closed to cars after 10:00 pm. You may enter, but you must park off the island and walk.
Continue reading "Fiesta Island- A Closer Look"
I have always had a deep-seated passion for the Ocean Environment which ultimately led me to receive a degree in Marine Biology. Living in the San Diego area for over 30 years, I have extensively explored the 70 miles of San Diego's coastline, and I am here to share! Please use my website to your advantage and have a look around at all the wonders that the beaches of San Diego can offer you!