On June 15, 2021, one of my best friends and I took her two dogs to Fiesta Island over at Mission Bay Park. Though I have been visiting Fiesta Island for well over 30 years, today was the first time I entered the infamous leash-free dog park; and oh my goodness, this place is magical! Ironically, the next day, the California Coastal Commission formally decided that Fiesta Island Dog Park was to stay the same way that it has been for years-rustic and undeveloped. I had no idea this was up for a vote.
A bit more commentary on this subject later.
So as I said before, I have been coming here for years, but back in 2018, I did a photoshoot of the island. I was surprised at how special it is over here. Would you care to see what I saw?
Let's also take a closer look at all of the things you can do and enjoy over at Fiesta Island. As a bonus, I will be including phone numbers and links to relevant websites about this area!
A Few Mission Bay and Fiesta Island Facts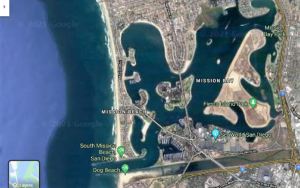 Phone Number– (619) 235-1169
Hours– 4:00 am to 10:00 pm
Click on the map below for a better idea.
#– Fiesta Island Dog Park is open 24 hours, seven days a week, but the island is closed to cars after 10:00 pm. You may enter, but you will have to park off the island and walk.
Continue reading "Fiesta Island- A Closer Look"
I have always had a deep-seated passion for the Ocean Environment which ultimately led me to receive a degree in Marine Biology. Living in the San Diego area for over 30 years, I have extensively explored the 70 miles of San Diego's coastline, and I am here to share! Please use my website to your advantage and have a look around at all the wonders that the beaches of San Diego can offer you!