On the morning of April 29th, I woke up on a mission. A mission to take in some glorious sights as well as breathing in some crisp and clean ocean air. I wasn't quite sure where I was going to start this adventure. I let my instincts guide me. While I am driving to the coast, several ideas pop in and out of my head. So today, I decided to take a closer look at the Carlsbad Sea Wall Trail, which is extremely popular in North Carlsbad.
—>Beaches of San Diego County<—
Below is an outline of the Beaches of Carlsbad. On this particular day, I visited all of the beaches except South Ponto.
Carlsbad State Beach
Robert Frazee State Beach
Tamarack State Beach
Warm Water Jetty Beach
South Carlsbad State Beach
Terramar State Beach
North Ponto State Beach
South Carlsbad State Beach
South Ponto
Exploring the Carlsbad State Beach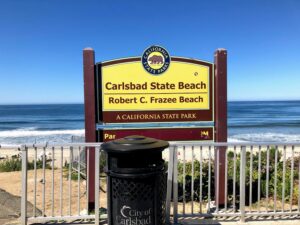 Today, I thought I would start over at Robert Frazee Beach, where Carlsbad State Beach's northern boundary begins. A small parking lot is located off Oak Ave and Ocean St, but I found a parking spot right off of Pine Street in the residential area.