Did I ever mention that my husband is originally from Lompoc? It is an inside joke between us- a small-town boy meeting a city girl. So, where is Lompoc, which is pronounced LOM-poke? Located 268 miles northwest of San Diego, Lompoc is often referred to as the flower seed capital of the world. The town was established in 1888 and is located in Santa Barbara County on the Central Coast of California. It is a small agricultural town that the Vandenberg Airforce Base surrounds. I informed my husband that if we were to visit,  my one desire was to go to the ocean. So we went to Ocean Beach Park in Lompoc, CA, and I am here to share.
Why Lompoc?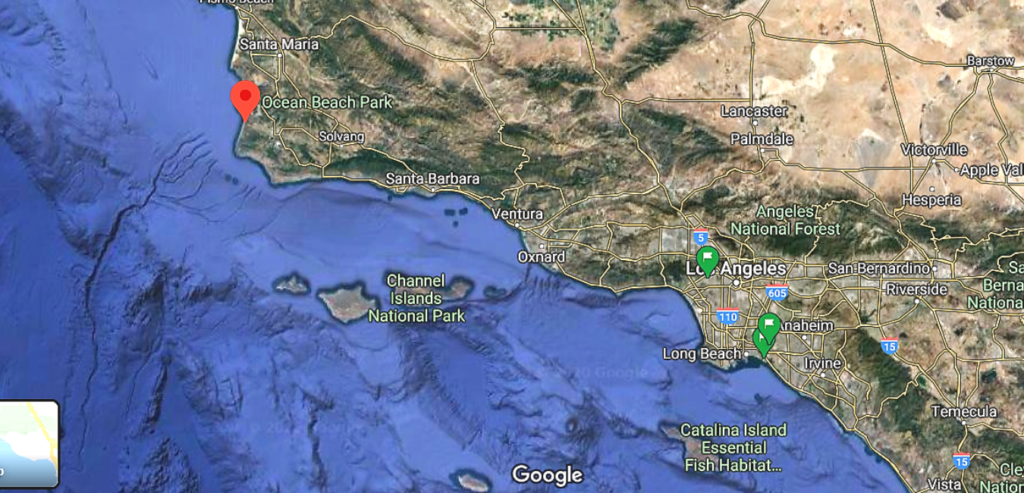 A little back story-We just celebrated our 25th Wedding Anniversary this past July 4, so we decided to go to Las Vegas to commemorate the joyous occasion.
It was nice to revisit where we were married (Treasure Island) and reminisce. On a side note, it was not pleasant to go to Las Vegas during Quarantine in 2020, but that is not what this post is about, so I digress.
After we were done with the ridiculous heat of Nevada (100 degrees plus), we headed northwest for six hours to see family in  Lompoc. As a rule, it is almost always chilly and overcast there. And to say that I was looking forward to not being so hot is an understatement!
Noting that we were only in town for less than a day, I thought having the family meet us over at Ocean Beach Park for a pizza picnic would be an outstanding idea.
It was perfect timing without even knowing just how lucky we were. If this had been any other time before 2020, we would not have been able to enter Ocean Beach Park.
More on this later.
Continue reading "Touring Ocean Beach Park-Lompoc, CA"
I have always had a deep-seated passion for the Ocean Environment which ultimately led me to receive a degree in Marine Biology. Living in the San Diego area for over 30 years, I have extensively explored the 70 miles of San Diego's coastline, and I am here to share! Please use my website to your advantage and have a look around at all the wonders that the beaches of San Diego can offer you!