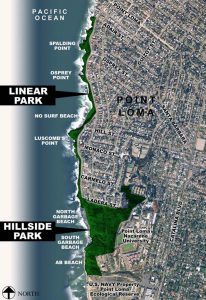 Sunset Cliffs Natural Park is over 18 acres of cliffs adjacent to the Western coast of Point Loma beginning at Ladera Street.
There is a sandy trail that runs parallel to Sunset Cliffs Boulevard that makes for a gorgeous walk.  Whenever we have company visiting from out of town and want to show off our coastline, this is the where we go.
The Beauty and Wonder of Sunset Cliffs Natural Park
---
---
Above is a short video that showcases the beauty of the cliffs next to the water.