The California spiny lobster season is upon us! Historically, the season opens on Saturday at 6 am before the first Wednesday in October; this year, that falls on October 1 and closes on March 22. Lobster cards, which cost $10.80, are due by April 30, 2023… more information is below.) Though I have never fished lobster before, I do know where they hang out in San Diego.
Down below, I have provided information on the California spiny lobster fishing regulations, a map on where not to look for lobsters (Marine Protected Areas), how to fish for lobsters; as well as, and a few San Diego recreational lobster boat charters that are available only during this time of year.
Also included is a brief overview of the California spiny lobster life cycle and a few interesting facts that will help you better understand this elusive and revered West Coast invertebrate!
Let's now take a look!
West Coast vs. East Coast Lobsters
There are 40 different lobsters worldwide, with the California spiny lobster (Panulirus interruptus) being one of the biggest. Affectionately referred to as 'bugs,' the California spiny lobster ranges from south of Point Conception to Magdalena Bay on the west coast of Baja California, Mexico.
The Maine lobster (Homarus americanus) – also known as the North American lobster, differs from its west coast cousin as it has two substantial, powerful front claws, which the spiny lobster lacks.
Instead, the spiny lobster defends itself with the sharp spines on its carapace shell and its large whip-like antennae.
---
Recreational Lobster Fishing Information
The 2023 California spiny lobster season officially opened on October 1 and will continue until March 22, 2023.
->California Department of Fish and Wildlife Recreational Lobster<- Fishing Regulations
Below is a link to a map of the coast of San Diego to reference before fishing for lobster from a vessel. You want to ensure that you are nowhere near any Marine Protected Areas.
–>Ocean Sport Fishing and Marine Protected Area Regulations<–
Bag Limit-7 per day, which may only be taken by hand or by a hoop net
Minimum Size– 3.25 inches long carapace. Measure in a straight line on the midline of the back from the rear edge of the eye socket to the rear edge of the body shell (carapace). All must have a measuring device capable of accurately determining the legal length of their person at all times.
Equipment- All lobsters may only be taken by hand or by a hoop net. No more than five hoop nets per person fishing for lobsters may be possessed. No more than ten hoop nets may be included aboard a vessel, regardless of how many are on board.
Permit Requirments-A California Department of Fish and Wildlife Spiny Lobster Report Card and a California Recreational Fishing License. No fishing license is required on public piers and jetties. (Remember that a jetty is surrounded by water in three places.)
What is a Spiny Lobster Report Card?
Regardless of age, every person taking lobsters must carry and record the coordinates of where they obtained each lobster.
Report cards help biologists determine whether the lobster resource is vital and if current fishing regulations are working correctly.
Before fishing,  fill out the month, day, location, and gear used (hoop net or hands). When you are done fishing, change location or gear, and record the number of lobsters taken from that location.
If, by some chance, you fill out your report card before the cutoff date of April 30, you may turn it in early and receive another card.
Again, you must turn all Spiny Lobster Report Cards to the California Fish and Wildlife Office no later than April 30. If you fail to do so, it won't be easy to receive a 2023-2024 report card the following year.
Do you need a California Recreational Fishing License or a CDFW Spiny Lobster Report Card?
Click on the link provided below.
–>CDFW Online License Sales and Services<-
---
Diving For Lobsters in San Diego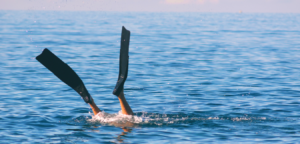 When freediving or scuba diving, you may possess spearfishing equipment, but you may not use it to aid in taking lobsters. You can use only your hands. Divers may come up to the surface to measure, but no measurements are allowed outside the water onshore.
Lobster Diving Tips–
nocturnal-best time to find them is at night
always use the brightest light possible to increase the range of visibility
solid and durable gloves to protect against spines
mesh bag to put the lobster inside
look for antennae sticking out of rocks and crevices
chum with bait or cat food
please pick up the lobster from its midsection, as the tail is mighty strong
bag the lobster tail first; this way, it will swim into the bag rather than out
---
Fishing for Lobsters on Piers
No fishing license is required when fishing from any public pier in California., but do not forget to have your Lobster Report Card!
Only five hoop nets are allowed per person.
Ocean Beach Pier is the best pier to try fishing for the spiny lobster in San Diego.
I recall several times when anglers looking for fish caught a lobster. Unfortunately, I had to remind them that you can only keep the lobster during the season and only by a hoop net, so they needed to throw it back. (more down below)
---
Fishing for Lobster Aboard a Vessel
Hoop nets are used from various vessels during the California spiny lobster season- from boats, paddleboards, jet skis, kayaks, and even surfboards.
As stated above, a maximum of 10 hoop nets is allowed per vessel, regardless of how many passengers are on board.
---
Lobster Hoop Net Hints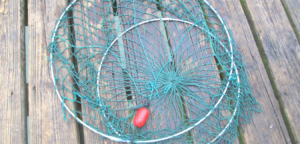 Use an oily or aromatic bait to scatter a scent trail

squid, Pacific mackerel, bonito, anchovies, sardines
raw chicken
catfood via percolated cans

As a rule, avoid other nets, especially next to commercial lobster pots.

Reminder, it is illegal to disturb or rob commercial lobster traps

It is essential to store your lobsters in an ice chest as they can spoil, and only clean your catch when you get home. Lobsters can live out of water for up to 24 hours.
---
 California Spiny Lobster Facts
The California spiny lobsters were the 4th most valuable fish/shellfish species caught in California in 2019. Over 373 tons were harvested!
Now that may seem like a lot, but compared to the North American lobster (Homarus americanus) harvest of  45 677 tons, you can see no comparison in terms of volume.
Let's look at a few exciting California spiny lobster facts that might help you.
nocturnal scavengers that feed on fish, mussels, sea urchins, snails, worms, algae, and even other lobsters
habitat consists of rocky reefs, and other rigid substrates hide in cracks and crevices

also favor manmade habitats such as jetties, seawalls, piers, rocks, and artificial reefs
surf grass and eelgrass beds can be prolific
at night they can be found on sand or mud bottoms
---
California Spiny Lobster Life-Cycle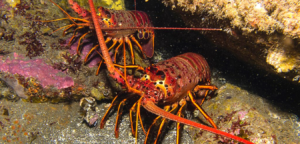 Male lobsters can reach over three feet in length (minus antennae) and weigh up to 26 pounds
can live to over 50- 150 years of age
move to shallow waters in the Spring and Summer and migrate out to deeper waters in the Fall and Winter

the lobsters  move offshore with the start of winter storms and when the nearshore waters begin to cool

a female carrying eggs is called 'berried."

females can lay over 80 000 to 800,000 eggs (depending on size)

reproduce from January to April
the females move to warmer shallow water in March and April, with the eggs being fertilized in May and June

there is no regulation, but most will return a female with eggs back into the water as a conservation practice

after a ten-week incubation period, the eggs will hatch, and the baby lobsters drift as plankton with the ocean currents for nine months
between 6 and 9 months, the little lobster plankton molt into miniature versions of their adult selves and settle into surf grass beds to molt into juvenile lobsters

the California lobster molts over 40 times before it reaches a legal size (7 to 11 years)
---
Where are the Best Places in San Diego to Find Lobster?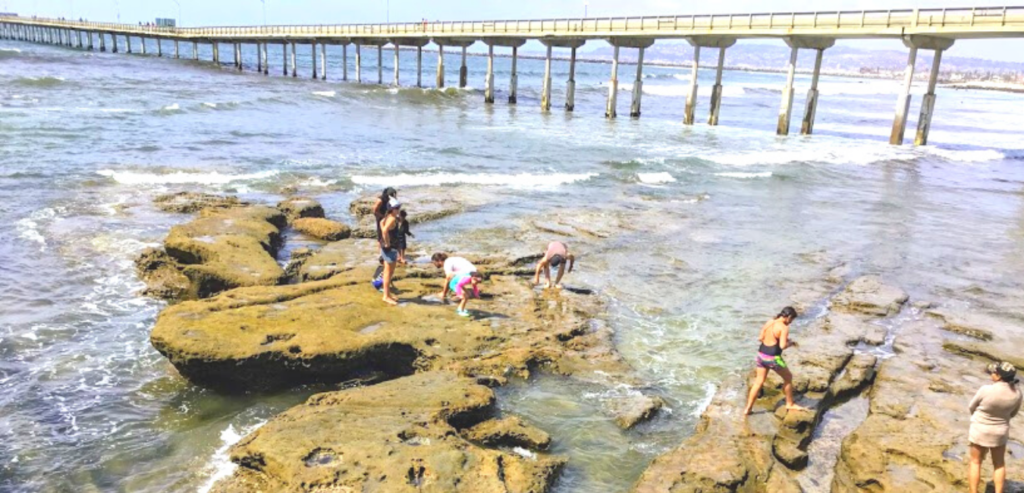 –>List of San Diego Fishing Piers<–
So I researched a few fishing boards online to get an idea of where everyone is catching lobster in San Diego.
And let me tell you what I found. Lobster spots are heavily guarded secrets in the San Diego fishing community! Down below are a few spots that I did uncover for you.
As I stated above, Ocean Beach Pier is the best fishing pier for lobsters in San Diego. The best time would be at high tide at the beginning of the dock on the south side. There is a rocky reef known as a lobster hotspot at this location.
Another famous San Diego lobster fishing spot, at least the one reported the most, has to be the Zuniga Jetty, located on a private military beach at the entrance of San Diego Bay (see photo below).
A few other suggestions-
any spot that is rocky intertidal
near bridge pilings in Mission Bay
South Mission Bay Jetty
Ocean Beach Jetty
---
Lobster Boat Charters in San Diego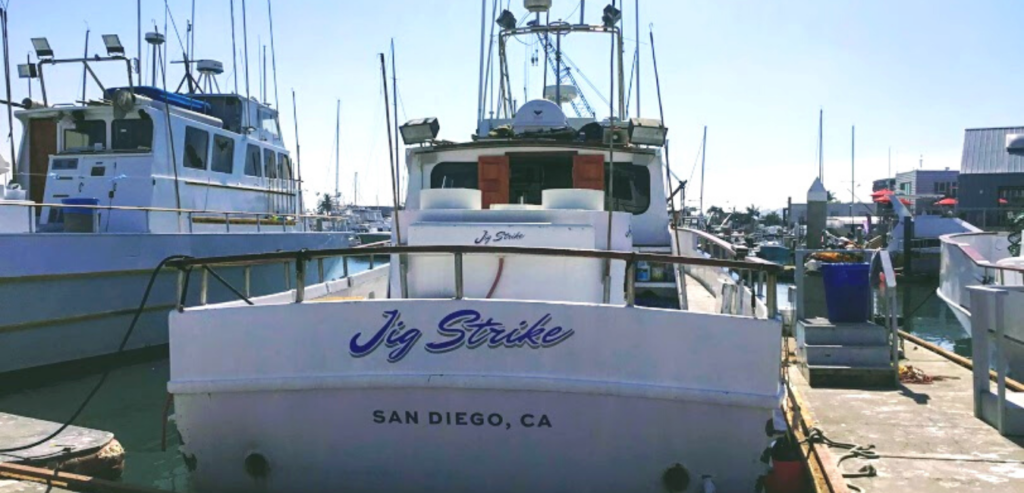 I found a few lobster boat charters to consider. Click on the provided links and photos for more information.
Mission Bay Lobster Fishing Charters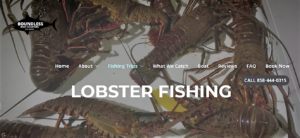 Boundless Boat Charters
888-444-0315
boundlessboatcharters@gmail.com
---
San Diego Bay Lobster Charter Boats
Captain Clowers
(619) 800-3474
captainclowers@gmail.com
---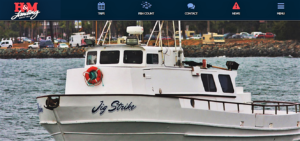 H&M Landing
(619) 222-1144
info@HMLanding.com
H&M Landing offers two lobster boat trips from 6 pm to 11 pm aboard Jig Strike and Alicia
---
San Diego Lobster Internet Forum Information
As a bonus, I found the most informative fishing forum online, SDFish.com,  where many San Diego anglers communicate with each other. Some subjects include making hoop nets, where San Diego anglers find lobsters, and much more.
Maybe you can find more hints here! Check it out!
Good luck to you, and if you catch any lobsters, please feel free to tell me about them!
Until next time!
Do Not Forget to Turn in Your Lobster Card Before April 30, 2023!
---
More Updated Information Regarding Spiny Lobster Season's 2021-2022
The California Department of Fish and Wildlife took the time to determine where everyone caught the most lobsters in Southern California.
Below, I have provided you with San Diego's top spots to catch lobster in  2021-2022 and the percentage seen in all of Southern California.
San Diego Bay -(14.1%)
Zuniga Jetty- (2.9%)
Mission Bay- (2.8 %)
Carlsbad to Oceanside- (2.6%)
So where was the number one place in all of Southern California to find the California spiny lobster? Catalina Island, where 16.3 % of all lobsters were caught during this season.
What Was The Best Way to Catch Lobsters by Gear Type in 2021 2022?
Rigid Hoop Net- (52.8%)
Scuba Diving- (23.0%)
Traditional Hoop Net- (16.7%)
Free Diving- (15.0%)
How Many Were Caught By Effort and Gear Type in 2021-2022?
Scuba Diving- (3.0 lobsters /trip)
Rigid Hoop Net- (2.0 lobsters/trip)
Free Diving- (1.9 lobsters/trip)
Traditional Hoop Net- (1.4 lobsters/trip)
---
References-
California Spiny Lobster Information-Fishing and Life History Information
I have always had a deep-seated passion for the Ocean Environment which ultimately led me to receive a degree in Marine Biology. Living in the San Diego area for over 30 years, I have extensively explored the 70 miles of San Diego's coastline, and I am here to share! Please use my website to your advantage and have a look around at all the wonders that the beaches of San Diego can offer you!