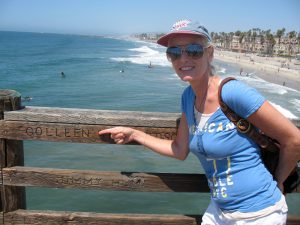 Hi there! I have lived in the San Diego area for over 30 years.  I was a stay-at-home Mom of three children; but rather than stay at home, we would go and explore the coastline.
Situated between Orange County to the north and Mexico to the south; San Diego County has some of the most beautiful beaches in the world.
I have accumulated many, many photos and would love to share with the world, my passion for the Ocean environment.
I Love the Ocean!
So please, have a look around. In the blog section, I have many photo-essays documenting our walks on the beach. Please see the recent blog menu and click on each title there, if you would like to comment ( I love comments!) Also, I have just added a Shopping/Review section which offers you many great deals pertaining to everything you could ever need for the beach and more!
My only hope in creating this website is that many will be inspired to learn more about the beaches of San Diego, California and to come down here (or up if you live in Mexico)  and experience it first hand. San Diego really is the most beautiful city in the nation (I may be biased, but not really.)
Take care,
Colleen