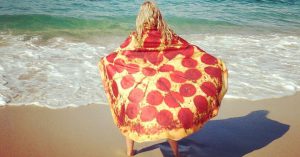 Searching around the web, I found the most unique product!
Pizza Towels are made by an Australian Company based out of Bondi Beach in Sydney.
Imagine yourself lying on a pizza at the beach!  These oversized circular towels with photographic pizza toppings are made from 100% cotton and measure at 4 feet 11 inches. There are 3 varieties to choose from: cheese, vegetarian and pepperoni!
Can you imagine lying on pizza at the beach!  Another great feature is that the pizza towel is delivered in a pizza box! What a great and unique idea!
Please take note that shipping to the US/Canada/Australia-5-15 days and everywhere else please allow 10-20 days.
Click here for more information!